Things You'll Need
Screwdriver

Masking tape

Scraper

Wood putty, Spackle or automotive filler

Sandpaper - 220 grit

Oil-based primer

Roller or brush

Drop cloth (optional)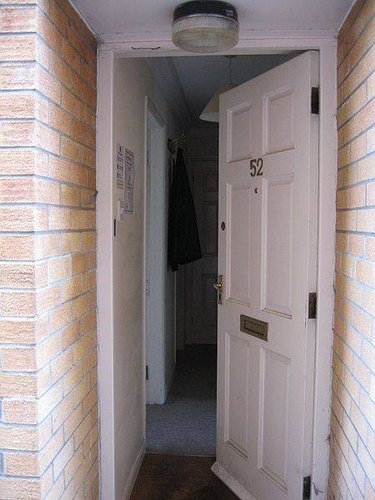 Masonite International Corporation makes interior and exterior doors as well as patio doors. Although most people dread doing it, painting doors helps to protect them and allows you to make them a matching part of your home decorating. Properly preparing the door to accept paint and knowing the proper sequence for painting a paneled door make the chore of painting doors much easier for those who believe the task difficult.
Step 1
Remove the door from its hinges if you want. If you leave the door on the hinges when painting, cover the hinges with masking tape.
Step 2
Remove the doorknob and strike plate. Remove any other decorations on the door that you do not wish to paint, such as door knockers.
Step 3
Use a scraper to remove any old, peeling paint, Fill in any holes or large cracks with wood putty, spackle or an automotive filler such as Bondo.
Step 4
Lightly sand the door. Wash the door with soap and water when done sanding to remove any sanding dust or oil from your hands.
Step 5
Depending on the design of the door, use a roller or a brush to apply a coat of oil-based primer to the door and allow it to dry thoroughly. Do not apply primer to the door if you are paining a new door that came from the factory already primed.
Step 6
If you are painting a door with panels, use a brush rather than a roller when priming and painting. Paint the panels first, using vertical strokes. Next, paint the middle, top and bottom of the door using horizontal strokes. Finish by painting the left and right sides of the door with vertical strokes.
Step 7
Using the same brush strokes and sequence, if applicable, apply two coats of paint to the door using a clean brush (or roller). Allow the paint to dry thoroughly in between coats.
Step 8
Allow the door to dry completely. When it is dry, reattach the strike plate, doorknob and any other hardware removed prior to painting.
Step 9
Hang the door if it is new or if you took it off the hinges for painting.
Warning
Please note that for new Masonite doors to be covered under warranty, the entire door must receive at least 2 coats of paint.