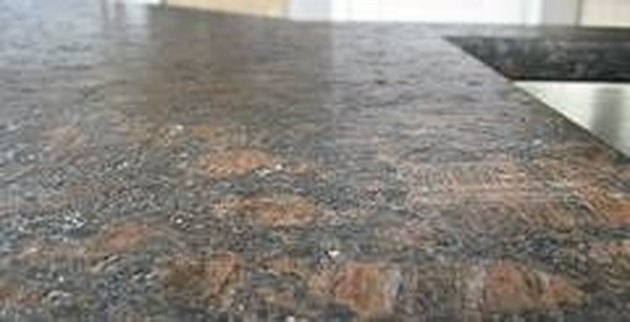 You may want a granite slab as a countertop to help increase the value of your home. You can set hot pots and pans on granite without worrying about burning it the way you would with a laminate countertop. You may even worry less about bacteria with a granite slab. Plus, granite countertops are featured in many designer kitchens, so you'll be right in style. A granite slab is a lot more expensive than granite tile because it's one continuous piece. Since granite is so expensive, you want to make sure that you get it right the first time.
Step 1
Factor in shipping costs. This will determine whether you go to a local stone yard or shop online. Online stores might have better base prices, but their freight charges could be astronomical, because granite is heavy. You'll pay a little more buying locally, but you will also save on the cost of shipping and be able to see your granite slab in person.
Step 2
Be prepared for variation. You may see a sample that is a few inches wide at the granite dealer. Take this home to see if it matches your cabinetry. However, when you see the actual countertop, be prepared for it to look different than the sample. Ask your stone yard if you can see the exact granite slab that you'll be purchasing, so you won't be surprised when it arrives.
Step 3
Pick a color that you can live with for a long time. A granite slab can cost several thousand dollars, so you want to get it right the first time. Red or orange countertops might be trendy now, but you also may be embarrassed by them in a few years when the style is outdated. Consider future house hunters who will be coming through your home. Granite is a selling feature, so you want to go with a neutral piece that will appeal to lots of different people.
Step 4
Think big. When you choose a granite slab, think of how the pattern will look on a large scale. This will keep it from becoming too overwhelming in your kitchen.
Step 5
Plan for seams in the granite slab. Granite usually only comes in 10-foot lengths. This means that you'll need several pieces put together. This will show up more on a granite slab that has a noticeable pattern, because the installer might not be able to match the lines continuously. If seams bother you, go for a darker piece of stone without noticeable lines.
Step 6
Choose an edge. This will also determine the price of your finished countertop. Your fabricator will have a variety of edges to choose from. For a modern kitchen you may want a straight edge. For a more traditional kitchen you might go for a bull-nosed edge, which has a slight curve to it.
Step 7
Decide on a finish. This will change the overall appearance of your granite slab. Choose a polished finish if you want the look of sleek stone. You can also find granite that is acid etched or has a brushed finish.
Step 8
Mix and match your counters. If you can't afford a granite slab on every countertop, incorporate it on your island. Your main workspace will still be stone without the expense of replacing all of your countertops.
Tip
You can measure your cabinetry yourself to see how big of a granite slab you'll need. Have the installers come in to get the exact measurements so you don't make a costly mistake.