Things You'll Need
Soft clean cloth

Vinegar

Baking soda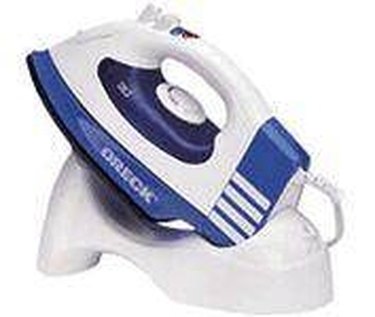 Like anything else in a home, even the iron will need to be cleaned from time to time. The Oreck Steam Iron comes in both cord and cordless versions and is designed to make the ironing experience a more pleasant one, but a dirty iron has quite the opposite effect. A dirty iron could result in the iron transferring dirt and causing stains on clean clothes. Proper care for the Oreck Steam Iron is also essential to ensuring its lifetime and quality.
Step 1
Wipe the iron with a clean dampened cloth. If the iron has a cord, wipe the entire length of it with the cloth. If it's cordless, make sure you unplug the base and wipe that down, too.
Step 2
Make a solution of baking soda and water into a paste and apply it to the sole plate. After 15 minutes, wipe it away with a clean damp cloth.
Step 3
Pour vinegar into the water chamber and plug in the iron. Allow the vinegar to sit in the chamber for 15 minutes and heat up. Unplug the iron and pour the vinegar out. This will help to eliminate any buildup in the chamber from hard water.
Step 4
Ensure that the reservoir for the water is completely empty before putting the iron away to avoid the accumulation of bacteria.
Step 5
Store the iron in the upright position until it is used again.
Tip
Use only distilled water in the reservoir to avoid the buildup of minerals from hard water.