Things You'll Need
Rug

Iron-on binding

Flat surface

Iron

Measuring tape

Scissors
Iron-on rug binding will give your homemade rug a professional and finished look. Bindings are also used to keep your rug from unraveling. You can add years of life to your rug by adding binding. Binding can be found in fabric stores or stores that sell novelty sewing items. The cost will be under $4. Binding is available in cotton and twill. You will find that binding is quick and easy to apply.
Step 1
Measure your rug before you purchase the iron-on binding. A package will contain 3 or 4 yards of binding.
Step 2
Place your rug right-side down on a hard flat surface.
Step 3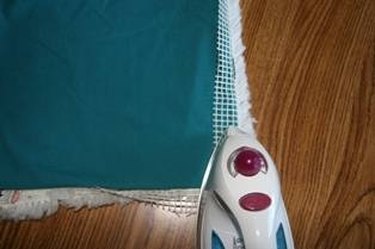 Fold the unfinished border of canvas toward the wrong side of the rug. Use your iron to crease the canvas so it will lay flat.
Step 4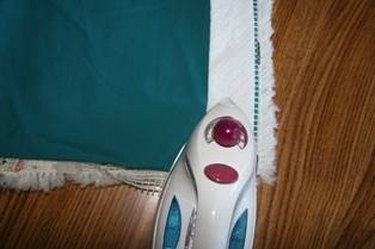 Follow the instructions on the package of iron-on binding for the temperature setting of your iron. Iron the binding to the canvas. Once the binding has cooled, test the bondage. You may need to repeat the ironing process until the binding adheres properly. Once the binding is secure your rug is finished.
Tip
Follow the package instructions for proper cleaning care.