Things You'll Need
Marinade of choice

Tri-tip (about 2 lbs.)

Barbecue grill

Grilling tongs

Instant-read meat thermometer

Clean platter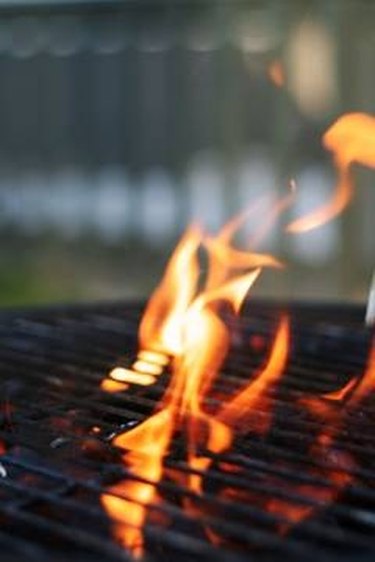 Tri-tip, also known as triangle roast, is a triangular cut of beef that comes from the end of the sirloin. The tri-tip can be sliced into steaks or cooked whole and sliced across the grain before serving. It has a rich flavor, but is lean. Because there is little fat on the cut, it can dry out easily and become very tough if it is overcooked. For this reason, tri-tip is usually cooked only to medium-rare. Marinating the beef will also help keep it moist, as well as add to its flavor.
Step 1
Place the meat in a large bowl and pour your favorite marinade over the meat. If you do not have a favorite marinade, you can use two or three bottles of store-bought Italian dressing.
Step 2
Cover the bowl with plastic wrap and place in the fridge overnight, or for at least an hour.
Step 3
Bring the meat to room temperature when you are ready to cook it. This will take about one hour with the meat sitting on the counter.
Step 4
Prepare your barbecue grill while your tri-tip is coming up to temperature. If you are using a charcoal grill, rake the coals slightly to one side of the grill so that you will have a low-temperature spot, away from the flames, where you can cook your tri-tip.
Step 5
Remove the meat from the marinade and pat the extra marinade off with paper towels.
Step 6
Place your tri-tip on a low-temperature spot on the grill, once your grill is ready. Grill your tri-tip, turning it occasionally with grilling tongs, until it is medium-rare---about 35 to 40 minutes. The tri-tip's internal temperature should be 135 degrees F when you cook it, which is just below medium-rare.
Step 7
Remove the tri-tip from the grill onto a platter. Let it rest for 15 to 20 minutes. During this time, the tri-tip's internal temperature will continue to rise 5 to 10 degrees F, cooking it to medium-rare.
Step 8
Thinly slice the meat against the grain and serve it while it's still hot.
Tip
If you'd rather grill the tri-tip as steaks, cut the marinated tri-tip into steaks, 1-inch thick. Grill the steaks over indirect heat until they are medium-rare, about 8 minutes. Flip the steaks halfway through the cook time. Again, use the instant-read thermometer and remove the steaks when they reach 135 degrees F. Let them rest for 10 minutes before serving.