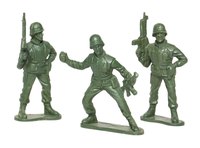 Those little green toy soldiers tend to evoke a sense of nostalgia for a bygone era, one that predates expensive video game systems and remote-controlled gadgets. Anyone looking to revisit that time, then, might well consider making a toy soldier costume, whether it's for them or their children. The process is fairly simple and, with a few basic components, can be assembled in less than a day.
Things You'll Need
Skateboard deck
Newspaper
Green spray paint
Green face paint
Power drill and screws
Army fatigues (pants and jacket)
Helmet
Toy gun
Green face paint
Color match your spray paint to your face paint. This is the most crucial part of your costume. Perfectly matched paint will give you the uniform look on a toy army man. Spray a variety of paints on a piece of cardboard, then allow to dry. Compare the colors to the color of your face paint, and choose the paint that is the best match.
Attach the boots to the skateboard deck using a drill. First, remove the soles of the boots. Then drill through the sole of the boot into the wood of the deck. The length of screw needed will depend on the height of your boots. Make sure the boots are attached wide enough apart to be comfortable. Then place the soles back in the boot. You have now created the plank for your toy soldier costume. Moving around like this will be challenging, but not impossible. It's like maneuvering uphill on a snowboard.
Coat all aspects of your costume with spray paint. First, lay down some newspaper and place each item on it. Coat one side of your toy gun and fatigues with a slow even layer of paint. Be sure the clothes are smoothed out and free of any wrinkles. Allow these to dry while painting your boot-plank combo and helmet. Then paint the other side of your gun and fatigues. You need to do two coats for the best effect. Allow everything to dry.
Get dressed before applying the green face paint, so as to prevent you getting makeup all over your costume or other people. Wear a white t-shirt under the fatigues for extra comfort. Starting with your face, apply an even layer of green face paint to your face, neck, hands, arms and any other exposed areas.