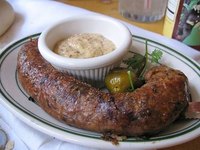 Boudin sausage calls Louisiana its birthplace. Originally, Boudin sausage was made to allow a portion of meat to be served to more people. In Cajun country Boudin sausage is as common as gators: Most everyone seems to know how to cook it and they all have their own recipe. In Acadiana (Cajun country), it is sold along the side of the road, at gas stations, and just about anywhere else. Although pork is the main ingredient, some are made with crawfish and crab.
Things You'll Need
2 pounds of pork steak
½ pound pork liver
1 medium onion, minced
4 cloves of garlic
Salt and pepper
2 cups of rice
1 bunch green onions, sliced
½ cup of Italian parsley, chopped
Large saucepan
Meat grinder or sharp knife
Saucepan with lid
Cut the pork and liver in 2-inch pieces. Place the onion, garlic, and meat into a large saucepan.
Add enough water to cover all the ingredients. Add as much salt and pepper as desired.
Boil and set to simmer. Remove any scum that has developed, and then simmer for one hour.
Strain the mix from the broth. Do not discard the broth; it is used in making the rice.
Grind the mix in a meat grinder. If this is not available then chop very fine.
Combine 3 cups of broth and rice into a saucepan. Bring to a boil, and then simmer for 20 minutes.
Combine rice, meat mix, green onions, and parsley. Mix thoroughly. At this time you can add other spices to enhance the flavor. Cayenne, chili powder, or red pepper flakes are great additives if you want that hotter taste.