Things You'll Need
Chrysanthemums

Leafy fern

Container

Plastic eyes, nose

Foam reservoir

Water

Ribbon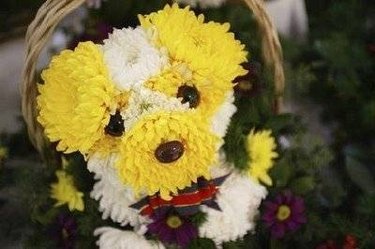 With the right type of flowers, you can turn a bouquet into the shape of a puppy or a kitten. Stop at your neighborhood florist and your local craft store, and you'll have what you need to bring some joy into the life of any animal lover.
Step 1
Purchase leafy ferns and 12 chrysanthemum blossoms in the "football" variety. "Football" refers to their large size (see Resources). White is best, but yellow mums also work well. The combination of a white face with yellow ears create a realistic-looking puppy.
Step 2
Buy plastic dog eyes and nose at a craft store, or make the eyes and nose yourself out of black fabric or felt. Glue them to the flowers.
Step 3
Choose your container. A small basket or a bowl with low sides will work fine. If it's a basket, line it with plastic to make it waterproof. Soak your foam reservoir and trim it so that it extends 1 inch above the rim of the container. Insert the foam into the container and secure it with bowl tape, which is waterproof. You can find this product at a floral wholesaler, or you can skip this step. Insert a few ferns into the foam sideways, to create the look of a bed of grass.
Step 4
Place one blossom in the center of the foam, leaving an inch or two of stem. This will be the puppy's head. Take two more blossoms and place one on each side of the center blossom, slightly angled. These will be the puppy's ears. All three of these blossoms should be touching.
Step 5
Insert three more blossoms below the head and ears. These should be angled to face slightly forward. The center blossom will be the puppy's nose, and the two other blossoms placed on either side will be the face. Insert a blossom between the nose bloom and the head bloom, and two more blossoms below the nose to fill in space as needed.
Step 6
Place two more blossoms in the foam to form the feet, which will perch on the edge of the container. Insert or glue the eyes and nose in the center of the appropriate blossoms. The eyes should be close enough to the ears to make your bouquet appear more puppy-like.
Step 7
Fill in with ferns in back to create the illusion of a puppy sitting in grass. Add small flowers to the background. Tie a small ribbon and attach it below the puppy's chin.
Tip
For a kitten, blossoms can be used for the head and nose, but use pointed leaves for the ears and grass for whiskers. Variegated leaves will work best for the ears. Fill in with flowers to shape the head of a kitten.