Things You'll Need
Industrial sewing machine or well built home machine

#69 bonded nylon thread or upholstery thread

#18/110 size sewing needles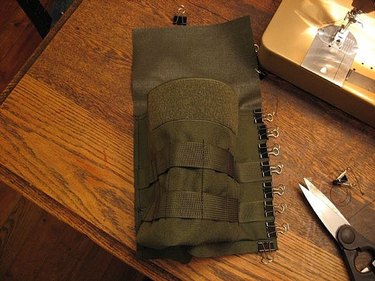 Here's how to get set up for sewing 1000D Cordura nylon and mil-spec webbing for backpacks, camping and tactical gear. These heavy-duty materials can be a challenge but the pointers in this article will help. This article is intended for people who want to sew their own airsoft and paintball gear.
Step 1
Select a sewing machine. Ideally an industrial walking foot, needle feed or compound feed machine meant for heavy materials. A clutch motor is a little tricky for the beginner to control but the machine can be slowed down by installing a larger diameter pulley on the motor. A servo motor offers much better control.
On the other hand, you can get started and do a lot of useful work with an older, solidly built home sewing machine. I use an old Singer machine that is all-metal. Avoid newer, cheaply made home machines that are mostly plastic.
Step 2
Obtain the right thread. Heavy-duty Cordura nylon is best sewn with #69 bonded nylon thread. This thread is usually bought on a one-pound cone shaped spool which will last you a long time. To get started, 100% nylon upholstery thread such as Coats & Clark brand is ok can be found locally in craft and fabric stores.
Step 3
The heavy-duty material you'll be using needs a large needle with a large hole for the heavy thread. Size #20 or #22 is great but #18 is probably the largest you can find for a home machine. Make sure the needle is installed correctly and clears the base plate, presser foot and rotary hook.
Step 4
Wind the bobbin and thread the machine. Sew some scraps of material and adjust the thread tension. You want the part of the stitch where the upper and lower threads interlock to be pulled in between the layers of fabric. You may need to increase the bobbin thread tension.
Step 5
Start out slow. Respect the limits of a home sewing machine. You may need to pull some stitches through by hand when sewing the thickest parts of your seams and folds. When you're ready to make something, see my article "How to Sew a MOLLE Pouch for Airsoft and Paintball" in the resources section.
Tip
Be aware that "industrial sewing machine" does not always mean meant for heavy materials. Some industrial sewing machines are designed especially for sewing very light materials at high speed.