A chewy and flavorful cut when cooked properly, a brisket can be braised in liquid in your oven for several hours to achieve fork-tender results. Use the cooking liquid of your choice, from a red wine reduction to seasoned soup stock, to keep the brisket moist, and gently steam it to juicy perfection in its foil-wrapped cooking vessel. Brisket can be prepared a day in advance and reheated.
Things You'll Need
3 to 4 pound brisket
Sharp knife
Large roasting pan
Aluminum foil
Cooking liquid (optional)
Oven-Braised Brisket
Step 1
Preheat your oven to 350 degrees Fahrenheit. Trim excess fat from the brisket, cutting carefully, using a sharp knife. Alternatively, leave the fat on so that it bastes the meat while it cooks.
Step 2
Place the brisket in a large roasting pan, fat side-up if the fat has not been removed. Pour your desired cooking liquid, such as a red wine reduction, beef stock or a spicy chili sauce, over the brisket. Surround the brisket with additional ingredients, such as sliced potatoes or sauerkraut, if desired.
Step 3
Cover the brisket with aluminum foil, sealing tightly around the edges of the roasting pan. Place the brisket in the oven and cook for approximately 3 hours or until it reaches an internal temperature ranging between 195 to 205 degrees Fahrenheit.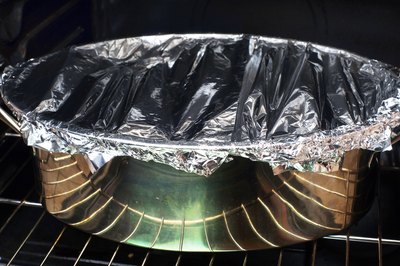 Step 4
Let the brisket rest for approximately 20 minutes. Slice and serve immediately.