Things You'll Need
Baking soda

Cornstarch

Water

Measuring cups

Pan

Pan cover

Stirring spoon

Large bowl

Kitchen towel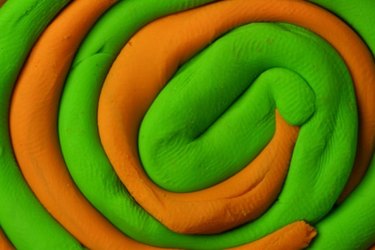 Provide your children or preschool classroom with hours of entertainment via magic modeling clay. Make the clay yourself or help children make the clay as an afternoon project at home or school. Use modeling clay to make your own craft projects to sell at craft fairs and flea markets or encourage children to come up with new and different clay craft designs. Create magic modeling clay using ingredients from around your kitchen and a little stirring action.
Step 1
Combine 2 cups of baking soda, 1 cup of cornstarch and 1 1/2 cups of cold water in a pan. Stir the ingredients until you have a smooth consistency.
Step 2
Place the pan over your stove on medium heat. Stir the mixture until it boils.
Step 3
Continue stirring to remove any lumps. Set a pan cover slightly askew and cook the mixture until it has the consistency of mashed potatoes. Keep a close watch on the pan and stir every few minutes to avoid burning the mixture.
Step 4
Pour the mixture into a large bowl. Saturate a kitchen towel in cold water and wring out so it is damp rather than dripping. Place the towel over the mixture and allow it to cool.
Step 5
Sprinkle cornstarch on a clean kitchen surface and knead the mixture once it has cooled. Knead the mixture until pliable, then use as desired.
Tip
Add assorted food coloring mixes to your clay to color it.