Things You'll Need
Narrow paint brush

Craft knife

Black acrylic paint

White acrylic paint

1/8- or 1/4-inch dowel

Craft glue

Black ribbon

White ribbon

Paper (optional)

Rubber bands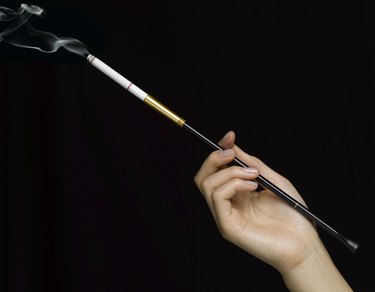 Whether you're dressing as Audrey Hepburn in "Breakfast at Tiffany's," a 1920s flapper or someone else entirely, adding a faux long cigarette holder to your costume adds an air of sophistication. And it's as easy as applying a little paint or wrapping some ribbon and paper. Throw on a little black dress and you'll have a last-minute costume put together in less than 30 minutes.
Transformed Paint Brush
Step 1
Cut the bristles and metal ferrule off the paintbrush with the knife.
Step 2
Paint the brush handle black. Allow the paint to dry thoroughly. If the paint brush is black, you can skip this step.
Step 3
Paint a 3-inch white band on one end of the brush handle. Let the paint dry thoroughly. Apply a second coat, as needed.
Transformed Dowel
Step 1
Cut the dowel to the desired length. Make your holder as long or as short as you want.
Step 2
Add a dot of glue at one end of the dowel.
Step 3
Wrap the black ribbon around the dowel, overlapping the edges and adding glue as you go. If you choose paper, wrap the entire length of the dowel twice before gluing the edge of the paper together. Wrap a rubber band at each end of the dowel to hold the ribbon in place while the glue dries.
Step 4
Wrap a 3-inch band of white ribbon on one end. For a paper band, use a 3-inch square of paper. Add rubber bands while the glue sets.
Tip
If you are in a hurry, use a hairdryer to speed-dry the paint.
Warning
Always handle a craft knife with care and keep it out of the reach of children.