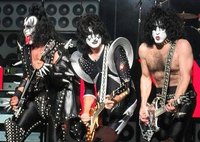 One of the most recognizable rock bands ever is Kiss. Kiss has been around since the early 1970s and are known as much for their black-and-white face makeup and their wild outfits as they are for their music. You can go solo and create a Kiss costume for yourself. Or get a group of friends together and rock any party when you all show up dressed as the members of Kiss.
Things You'll Need
Black vest or T-shirt
Acrylic rhinestones or sequins
Glue
Black leggings or bike shorts
Chalk
White and black makeup
Silver or green makeup
Black lipstick
Red lollipop
Black vest
Aluminum foil
Black wig
Red or black lipstick
Scissors
Gloves
Black nylons
Cut a large V-shape down the center of a tight, black T-shirt. For the best rock effect, cut the shirt down to the bellybutton, to show off the chest. Glue acrylic rhinestones onto the shirt, following the "V" pattern. Cut the sleeves off the shirt. Glue rhinestones around the edge of the sleeve. A black tank top or a black vest would also work.
Put on a pair of tight, black pants or bike pants. Draw lines with chalk where you want to cut out two or three large circles or stars. Remove the pants and cut out the shapes with scissors. Glue aluminum foil around the edges of the cutout shapes.
Cut the legs off a pair of black pantyhose. Stretch one piece of hose over your hand and arm. Cut out a small hole for one or two fingers. Remove the hose. Glue aluminum foil or acrylic rhinestones onto the homemade gloves. Use black craft leather to tie around the gloves on the forearm or elbow, to keep them in place.
Make a collar for your neck using leftover material from the hose. Cut a strip 1 inch thick and glue the ends together. The material should be stretchy enough to fit over your head and onto your neck.
Paint your face white with costume makeup. Add a large 5-pointed black star around one eye for Starchild. Draw silver flames with black outlines around each eye for Spaceman. Paint four whiskers, a nose and symmetrical "D" shapes around the eyes for Catman. Add black flames around the eyes for The Demon. Color your lips black for Spaceman and The Demon; red for Starchild and Catman.
Accessorize the Kiss costume with studded belts and silver chain jewelry.