​eHow may earn compensation through affiliate links in this tutorial.​
Have you ever accidentally placed plastic on your stovetop while it was still warm? Unfortunately it's a common kitchen mishap. But, no worries! Although this may seem like a major catastrophe, it's actually pretty easy to fix! This tutorial will show you how to clean melted plastic off a stovetop burner, and will have your melted mess cleaned up in minutes.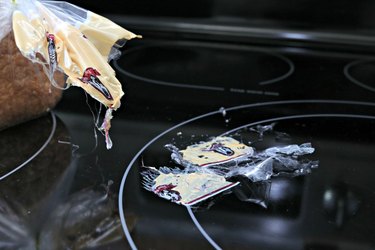 Watch the Video Tutorial:
Things You'll Need
Step 1: Let your stovetop cool completely.
Do not try to remove the plastic while your stovetop is still warm. It will only result in a bigger mess and you risk burning yourself as well.
Step 2: Start by covering the melted plastic with baking soda.
Step 3: Next, spray liberally with white vinegar.
Step 4: Let the mixture bubble for about 30 seconds.
This will help lift the melted plastic off of the stovetop.
Step 5: Use a scrubber sponge to remove any stuck on plastic.
Step 6: Remove and discard plastic.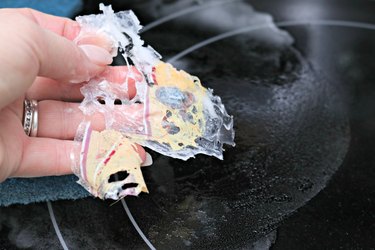 Step 7: Use a clean cloth to wipe away excess mess.