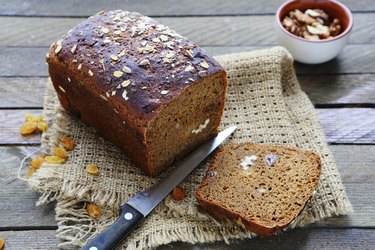 Use one Welbilt bread maker, and you can use them all. All bread-making machines do the same thing -- mix, knead and bake flour, water and yeast. Welbilts differ in body style -- some models have a clear lid, others opaque -- and capacity, as some can handle up to a 2-pound loaf, whereas others max out at a 1 1/2 pound-loaf. But they all have an easy-to-understand user interface, so as long as you add the ingredients in the right order, you'll have bread in about 1 hour.
Step 1
Portion the flour, yeast and warm water, and a pinch or two of salt. For a 1-pound loaf of bread, measure 1 cup each of flour and water, and 2 1/4 teaspoons of active-dry instant yeast. To make a 1 1/2-pound loaf of bread, measure 1 1/2 cups each of flour and water, and 1 tablespoon of active-dry yeast. For a 2-pound loaf of bread, measure 2 cups each of flour and water, and 4 1/2 teaspoons of active-dry instant yeast.
Step 2
Remove the loaf pan from the bread maker and attach the kneading blade. Add the ingredients in the following order: water, flour and yeast. Return the loaf pan to the bread maker and close the cover.
Step 3
Press the Menu button until the display shows the type of bread you are making; options include Basic, Whole Wheat and French, depending on the model of bread maker. When you have reached your selection, press OK.
Step 4
Select the level of doneness when prompted: options include Light, Medium and Dark.
Step 5
Choose the size of loaf when prompted: 1 pound, 1 1/2 pounds or 2 pounds.
Step 6
Press Start. The bread maker beeps five consecutive times when ready; it takes about 1 hour to finish a 1-pound loaf. The bread maker keeps bread warm for up to 1 hour.
Tip
You can make almost any type of bread in a Welbilt, but take advantage of the Welbilt Easy Baking Cookbook if you have it. The cookbook's recipes were developed for the Welbilt Bread Maker and Bread Oven and provide inspiration when you want something more than a regular loaf.
To clean the bread maker, unplug it and let it cool completely before cleaning it. Remove the loaf pan and wash the inside with warm, soapy water, but don't submerge it. Wipe the kneading arm and the bread-maker body with a damp cloth.
Warning
If you don't know the loaf pan's capacity, only make 1- and 1 1/2-pound loaves of bread.
Always operate the bread machine with a few inches of space on all sides so it doesn't overheat.