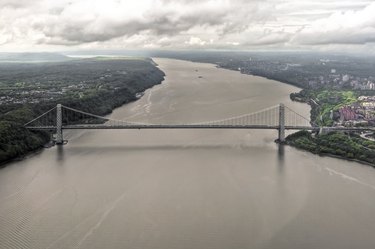 Carrying more than 102 million vehicles a year between New York City and New Jersey, the George Washington Bridge is the world's busiest bridge. Avoiding traffic, therefore, involves its own challenges, but drivers can limit delays with a little planning.
Take a Pass
Apart from the sheer volume of traffic crossing the bridge, one of the biggest causes of delays is the requirement to pay a toll when traveling towards Manhattan. Vehicles traveling in the opposite direction do so for free. Rather than paying cash at the booth, frequent travelers can save time by signing up for an E-Z Pass. The scheme collects fees electronically by scanning a tag in the driver's windshield and has its own dedicated lanes, where traffic should move faster. At night, the Palisades Interstate Parkway on the upper level is open to E-Z Pass holders only, for example. Drivers can enroll for the scheme by applying online and collecting the tag from an E-Z pass service center.
Share a Car
Another way to slip into a faster moving lane is to car pool. Two-axle vehicles with single rear wheels carrying noncommercial plates can use the car pool lane if carrying three or more passengers; the car qualifies for a lower toll fee. To car pool, you must first sign up as an E-Z Pass holder. Be warned that you are not allowed to pick up hitchhikers on the approach to the bridge to make up the numbers. While picking up a hitchhiker itself isn't illegal, changing lanes to do so or stopping at a bus stop to pick up riders will incur a citation.
Plan Ahead
Timing your crossing and familiarizing yourself with traffic conditions across the bridge pays dividends. Drivers can sign up for Port Authority alerts, delivered free to a smartphone or email address, which detail current incidents or ongoing works that are likely to cause delays. Alternatively, drivers can call 511 for up-to-date traffic information provided by the New York State Department of Transportation. Local radio stations on both sides of the Hudson River are also a valuable source of bridge traffic information through their regular bulletins.
Seize the Moment
Not surprisingly, traffic across the George Washington Bridge slows to a crawl during rush hour. Peak hours are from 6 a.m. to 10 a.m. and 4 p.m. to 8 p.m. during the week, and from 11 a.m. to 9 p.m. on weekends, according to the Port Authority; congestion often starts earlier, though. By traveling outside these times, you are almost guaranteed a less congested journey. Travel on the lower level towards New Jersey is usually quicker, while the upper level is quicker for journeys into the city. It is also possible to cross the bridge as a pedestrian or cyclist. The south sidewalk on the upper level is open 6 a.m. to midnight, but sidewalks are sometimes closed for works.