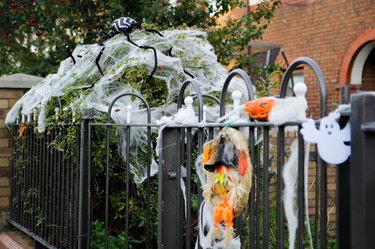 Friday the 13th – from the superstitions to the movie, this date has all the elements needed for a proper horror party. A Friday the 13th theme party may range from a mild "boo" to a full-blown Jason-style haunted house depending on your tolerance of scary stuff. In addition to black cats, costumes and eerie music, load the buffet with an assortment of spooky foods and put on "The Monster Mash" or "Thriller" to pull the dancing machines onto the disco floor.
Friday the 13th Party Ideas
If the birthday boy or girl was fortunate enough to be born on the 13th, you might plan a Friday the 13th birthday party. Instead of the normal birthday decorations, hang trailing strands of black or purple crepe paper in doorways and from the ceiling, add black cats and scary witches peeking into the room, use a spooky strobe light and create your own custom creepy lyrics to the classic happy birthday tune. Encourage costumes and, of course, serve a cake cut into a scary shape, such as a cat decorated with black frosting, green eyes and trick birthday candles that relight despite all attempts to blow them out.
Movie fans can enjoy a Friday the 13th theme party or a haunted house complete with Jason jumping out of dark corners. Whether it's the original film, one of the 12 sequels or the 2011 action/horror short, there's more than enough material to build a haunted house or hold a weekend movie marathon for a die-hard fan of the franchise.
A Friday the 13th dance party gives you and your guests an opportunity to dress in wild costumes and cut the rug. Pull out the classics, from the "Monster Mash" to "Thriller" to Meco's 1977 "Star Wars" disco album. Who could forget the Addams Family theme song and, of course, "Time Warp" from the Rocky Horror Picture Show? Whether you hire a disc jockey or put together a haunting playlist, keep the party rocking all night long with your favorite tunes.
Scary Party Games and Movies
Children's party games and movies should stay on the "boo" and "everyone laughs" side of the scary scale. Pumpkin bowling, pin the spider on the web, spider relay races and a pumpkin piñata are all games that will keep the kids busy. Select videos, such as "Casper the Friendly Ghost" or "Scooby Doo" that keep it light for the little ones. Cartoon-length videos are best for younger guests, while older children might enjoy "Monsters, Inc." or "The Nightmare Before Christmas."
Friday the 13th party games for adults could include pumpkin checkers, eyeball pong (with or without the alcohol) and scavenger hunts seeking 13 icky items from the neighborhood. The Friday the 13th board game is an option for three to six players when the weather is frightful and no one wants to go outside.
Gamers have a different point of view on party games. Whether in the same room or online in a group, games range from epic quests to zombies to shooter games. Gather your gaming buddies, lay out the snacks and start your evening with Friday the 13th: The Game. Be warned that it's not appropriate for all ages – it's gory, violent and designed for mature audiences.
What's a party without refreshments? Set out bowls of spooky Halloween candy, from mini candy pumpkins to candy corn to old-fashioned wax fangs and chocolate eyeballs. Add Friday the 13th Jason mask candies, tequila worm pops and margarita suckers for a little adult fun.
Sleepovers and Friday dinner parties require more substantial fare. Meatloaf shaped into a face and covered with bacon strips with pearl onion eyes (covered with foil) and chopped onion or green bell pepper teeth is properly horrifying once baked and drenched with tomato ketchup. Consider serving meatball mice with pasta sauce or meatball eyeball sandwiches.
Bloody finger hot dogs, jalapeño popper mummies, deviled eyeball eggs or a skeleton vegetable tray allow guests to nibble on finger foods. Sweet treats might include meringue bones, blueberry mummy muffins or graveyard brownies. Make red wine caramel to pour over cinnamon- and sugar-drenched apple slices or just spoon strawberry jam over vanilla ice cream.