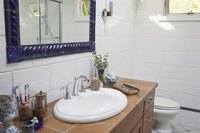 If your bathroom has seen better days, but so has your checking account, make a few changes that give you lots of bang for just a few bucks. What could be better: easy, fast and affordable.
Things You'll Need
Shower rod and curtain
Faucet
Light fixture
Mirror(s)
Glass bowls
Rocks and candle
Soaps or bath salts
Paint
Shelf
Paint the walls; if you have old, ugly wallpaper, remove it and cover walls with a fresh coat of a neutral color for a soothing, spa-like effect. Or paint the walls in two tones for a smart look. Paint is inexpensive but has an instantly dramatic effect.
Change out your bathroom faucet and light fixture for an immediate update. It's fairly easy to do this yourself.
Hang a new shower curtain and hooks. A shower curtain is inexpensive but rarely replaced. Choose a solid or softly patterned curtain for a soothing effect in a color or pattern that complements your newly painted walls.
Replace the mirror over the vanity or sink. Discount and home improvement stores offer nice, wood-framed mirrors for an affordable price. Alternatively, hang several unframed oval mirrors of different sizes in a grouping on the wall above the sink for a modern look.
Add inexpensive accessories. Place a glass bowl full of smooth rocks on a shelf above the toilet and add a candle to the middle of the bowl. Place another bowl full of bath salts, pretty soaps near the sink or vase of fresh flowers on the vanity. Use small containers you already have like unused sugar bowls or baskets for attractive organizers.