Things You'll Need
1 oz. sandalwood

1/3 oz. orris root

1/6 oz. benzoin

1/4 to 1/8 tsp. gum tragacanth

1 tbsp. potassium nitrate

Mortar and pestle

Thin wood or bamboo sticks

Natural or synthetic oil (anything but regular petroleum)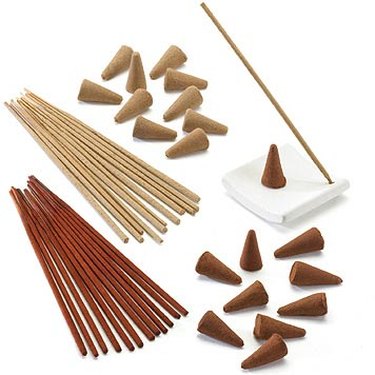 Incense has been used since early times for everything from scenting homes to religious ceremonies. Burned in the form of sticks or cones, incense can create a meditative air, or impart a sense of luxury and calm. Sticks and cones are imbued with scented oils that emit fragrance when burned.
Step 1
Grind up the sandalwood, orris root and benzoin in the mortar and pestle. Make the powder as fine as possible.
Step 2
Mix together the 3 powders and place them into a bowl. In a seperate bowl, mix in 1 to 1 1/2 tsp. of water for every 3 tsp. you have of incense powder. Add the potassium nitrate to the water, and allow it to dissolve completely.
Step 3
Make the cones. For every 2 tbsp. of incense powder, add from 1/8 to 1/4 tsp. of gum tragacanth. Mix everything together until you obtain the consistency of dough. Take a small bit of the incense dough and shape it into a cone that's 1 inch high. Flatten the bottom of the cone so it will stand up.
Step 4
To make incense sticks, dip your sticks in the mixture of water and potassium nitrate. Roll the wet sticks in the incense powder. Only a small amount will adhere to the stick.
Step 5
Allow the stick to dry for 5 to 10 minutes. Dip the stick in water again, and roll it in the incense powder. Let the stick dry for 5 to 10 minutes. Repeat the process until the stick contains the desired thickness of incense.
Step 6
Let all of your incense cones and sticks dry for 24 hours before you burn them.
Tip
Experiment with other aromatic woods, spices and oils. Add solid ingredients to the incense powder and fragrant oils to the water and potassium nitrate mixture. Do not forget the gum tragacanth.
Warning
The exact measurement of incense powder you make will depend on how finely you grind the materials.