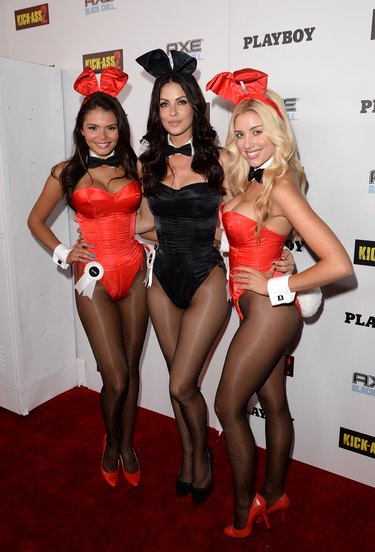 Solid-colored one-piece leotard, body suit or bustier Self-sticking Velcro Large white pompom (available at craft stores) or fake bunny tail 4 black pipe cleaners Wire craft headband Satin fabric Hot glue gun Hot glue sticks Scissors White cuffs White collar with attached bow tie Foundation Concealer Black eyeliner Pink or red lipstick Blush Black pantyhose High heel shoes
The Playboy Bunny Outfit
Step 1
Find a base for the bunny costume, such as a solid-colored strapless one-piece leotard, strapless bodysuit or strapless bustier with matching booty shorts. For a more authentic look, use a strapless merry widow corset teddy.
Step 2
Lay the outfit out flat with the backside facing up. Locate the area of the outfit that is just above the tailbone. Place a piece of self-sticking Velcro on this area of the suit, in the place where a rabbit would have a tail.
Step 3
Place the opposite piece of self-sticking Velcro onto the bunny tail. For example, if you attached the hook-sided Velcro to the suit; then the loop-sided Velcro piece goes on the bunny tail.
Step 4
Attach the bunny tail to the outfit by pressing the Velcro on the tail into the Velcro on the outfit. Alternatively, secure the tail to the outfit with hot glue.
The Bunny Ears
Step 1
Cross the tip of one black pipe cleaner over the tip of a second black pipe cleaner. Twist the two tips together two or three times until they are secure; you have now created a bunny ear. Repeat the process with two more pipe cleaners.
Step 2
Attach the ends of the bunny ear to one side of the wire headband by twisting the end of each cleaner to the side of the band. Attach the second bunny ear to the opposite side of the headband in the same manner.
Step 3
Stretch a piece of satin that is the same color as the base of the bunny costume over one bunny ear. Secure the satin to the pipe cleaner ear with hot glue. Do the same with the second bunny ear.
Step 4
Trim the excess satin off the ears with a pair of scissors. Bend the tips of the ears forward slightly to finish the look.
Finishing Touches
Step 1
Put on a pair of white cuffs and a matching collar with a black bow tie attached. These three items are typically available together in a set at various Halloween shops and department stores.
Step 2
Apply foundation over your or your friend's face and cover any blemishes with concealer. Line your upper and lower eyelids with black eyeliner. Consider creating a smoky cat's eye effect for a more sensual look.
Step 3
Cover your lips with pink or red lipstick. Apply a little blush on the apples of your cheeks and blend it upward.
Step 4
Complete the Playboy Bunny costume by wearing blank pantyhose and a pair of high-heel shoes that are the same color as the bunny outfit.
Tip
Wear only simple jewelry -- such as diamond-studded earrings -- or none at all.