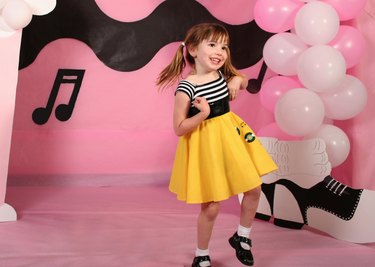 Dressing up as one of the Pink Ladies from the musical ​Grease​ may be as easy as shopping at an online costume or 1950s store, but you can save money by putting together your own Pink Lady costume. Create the Pink Ladies' jacket with a bowling shirt and handcrafted embellishments, including a single iconic string of pearls. Complete your Halloween outfit with items found in your closet, your grandmother's attic or a second-hand store. Top it off with a hairdo rocked by one of your favorite 1950s bad girls.
Things You'll Need
Men's pink button-down bowling shirt

Fitted, solid-colored top for layering under the bowling shirt

Black embroidery thread or iron-on Pink Lady logo (optional)

Embroidery machine or sewing needle (optional)

Tight black leggings or pencil skirt

Spike heels, flats or saddle shoes with white bobby socks

Accessories such as a pink scarf, clutch purse, cat-eyed sunglasses or large, dark shades, string of pearls

50s-style wig, temporary hair color, hair rollers or ponytail elastics (optional)

Pink bubblegum
It's All About the Pink Shirt
Wear a men's pink button-down bowling shirt -- or similar style -- to stand in for a Pink Ladies jacket. Embroider "Pink Ladies" on the back. Alternatively, print a Pink Lady logo onto iron-on transfer paper.
Name Your Pink Lady Costume
Embroider the first name of your favorite Pink Lady on the front left of the shirt. Layer a fitted solid-color shirt under the embroidered Pink Lady costume shirt.
Recreate the 1950's Bottoms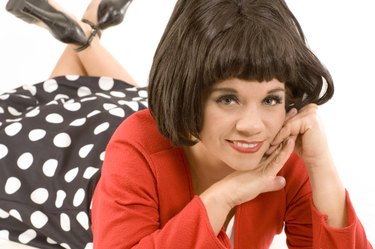 For the bottoms, choose from black leggings or a pencil skirt, calf-length for either one. Or if you're dressing up as Jan for Halloween, wear an over-the-knee plaid, flared skirt.
Complete your Pink Lady ensemble with a pair of spike heels or saddle shoes, unless you're going as Jan, in which case slip into white bobby socks and flats.
Accessorize Your Pink Lady
Choose accessories inspired by the Pink Lady you're dressing up as. All wore silky scarves around the necks. Rizzo wore oversized dark shades, while the others wore cat-eyed sunglasses.
Hairstyles for Pink Ladies
You've got several options for recreating the Pink Ladies hairstyles. Use rollers to create soft curls like Marty wore, or pull your hair up into a ponytail over each ear like Jan's. If you have medium-length hair, use a temporary hair color to create the pinkish red hair that Frenchy, the beauty school dropout, often sported. Style into soft curls. Maybe even leave in a couple of curlers. If you've got short hair, you won't need a wig to be Rizzo.
Tip
Because there are several different members of the ​Grease​ group, you can create a Pink Ladies costume based on just one of them, or mix and match to create a look that's inspired by all the characters.

The Pink Ladies is also an ideal group Halloween costume.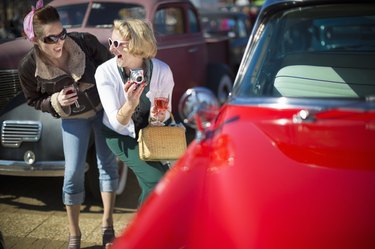 The Pink Ladies chewed pink bubble gum during many of the movie scenes, so be sure to chew gum as a final touch to the Pink Ladies costume. If you can blow bubbles and snap the gum, all the better.