Things You'll Need
Hay bale

Fall leaves

Pine cones

Pumpkins

Holiday lights

Scarecrow

Yard signs

Corn husks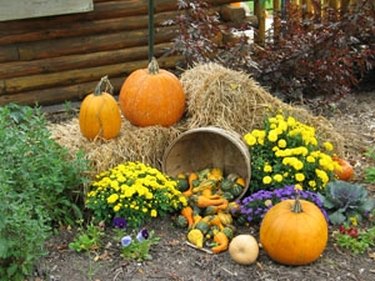 Use natural products. When decorating for fall, use natural products such as hay bales, pine cones, straw and brightly colored leaves. Stack a bale of hay in a section of your yard, and sprinkle your pine straw around it. Add leaves to your display by placing them on top of the hay and straw in a fashion that would seem as if they had fallen from trees. Add a few pine cones to this display around your hay bale.
Step 1
Add a scarecrow. Scarecrows represent a harvest, so any fall festival would be remiss to not use one. A scarecrow can be purchased at a craft store that sells yard decorations, or you can make one yourself. To make your own scarecrow, simply get some old clothing and make an outfit for the scarecrow to wear. Jeans and flannel shirts work great for this project. Stuff the clothing with newspaper or straw, and put it on a wooden frame to hold the scarecrow upright. You can use hay or stuffed gloves for hands. For feet, you can use extra hay or shoes stuffed with newspaper. To make your scarecrow's face, stuff a pillowcase with straw, and paint a face with a marker or brightly colored pen. Now stick your scarecrow in the ground by its stake. You can place it beside your hay bale or even sitting on top of it.
Step 2
Add pumpkins and corn. Pumpkins are a brightly colored addition to your fall festival decorated yard. Purchase in different sizes and place in your yard around the doorway and hay bale. Corn husks are inexpensive and can be put around your hay bale and pine straw, standing them upright against your hay bale or laying down near your scarecrow.
Step 3
Purchase yard signs at a retail store. Around Halloween and fall, most retail stores will sell decorative yard signs that you can place around your yard and hay bale setup. These are a great addition to your fall festival yard.
Step 4
Use holiday lights to enhance your theme. Holiday lights come in many colors that are suitable for a fall festival theme. White, orange and even black will focus attention on your decorations. Lights can be placed around the bottom of your display or strung through the decorations by weaving them in and around your hay and scarecrow
Step 5
Use a harvest wreath to decorate your door. These can be purchased at a craft or department store, or you can make one yourself by purchasing a wreath frame and gluing on leaves, corn husks and foliage.