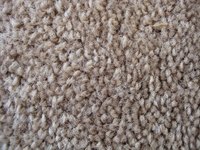 Getting urine out of carpet is very frustrating. No one wants to go into the room where it stinks of urine. Buying new carpet is very expensive. Finding a way to fix the problem with the urine carpet is a lot cheaper.
Things You'll Need
New carpet pad
Razor knife
Measuring tape
Bleach
Steam cleaner
Carpet cleaner
Carpet tape
Remove all furniture and all items from the room. If there are curtains in there remove those also. You want to make sure absolutely everything comes out of the room. Every inch of carpet needs to be cleaned. If not the smell and the urine could still linger in there.
Pull up carpet. You can do this at one of the corners. Be careful of the tack strip so that you do not poke yourself. Tack strip holds the carpet firmly in place. It is one of the main elements of installing carpet. Remove the old carpet pad and throw it away. Cut the carpet at the doorway with a razor knife. Take the carpet out of the room.
Clean the floor that was underneath the carpet pad. Most of the times this will be a wood floor. Use a mop and bleach to clean. This will take care of the urine and the bacteria. Bleach will seal this floor from the urine. Make sure this is cleaned really good. You might want to go over it a couple of times.
Steam clean the carpet you pulled out of the room. It is best to do this on a flat surface like a driveway. Clean one side of the carpet really well. Go over it a few times with the steam cleaner. Flip the carpet over and clean the other side good also. Doing both sides will ensure that you are getting it as clean as possible.
When the floor is dry put down new carpet pad. Make sure to cut and measure to make sure it fits just right. It will probably take one or two days for the carpet to dry. When the carpet is dry put that back into the room also.
Buy stuff at store to re-seam the carpet together again. You will need this so it goes back together with the doorway. You can purchase different items like tape at any home improvement store. When everything is done put all furniture and everything back into the room.