Things You'll Need
Tortilla chips or corn tortillas cut into wedges or strips

Sauce

Shredded or crumbled cheese

Eggs or chicken (optional)

Oil

Salt

Pepper

Diced onion

2 cloves minced garlic

Large frying pan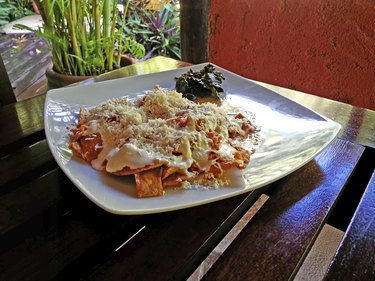 Chilaquiles are the ultimate Mexican comfort food. Traditional recipes vary among regions in Mexico, and even more variations abound with the Americanization of traditional recipes. Originally, this dish was a conglomerate of leftovers that needed to be used up, so don't feel the need to stick with a specific recipe. Make chilaquiles with tortilla chips or leftover corn tortillas, almost any kind of tomato- or tomatillo-based sauce and whatever cheese that suits your fancy. Top the dish with shredded chicken or eggs.
Step 1
For a simple tomato-based sauce, blend a large can of tomatoes with a few chipotle peppers or other Mexican seasonings such as cumin, garlic, coriander and chili powder or canned chilies to taste. Even a can of mild red or green salsa will work in a pinch, or use green or red prepared enchilada sauce. Whatever sauce you choose, blend it first until it is smooth. Use 1 cup of sauce per serving.
Step 2
For fresh tortillas, heat a layer of oil in the skillet over medium-high heat until shimmery. Layer the cut tortillas and fry them until they are golden and crisp, about four minutes. Remove the tortillas, place them on a paper towel to drain and sprinkle them with salt. Wipe the pan clean to reuse. Fry three tortillas per person or an even dozen for four servings. Skip this step if you are using tortilla chips.
Step 3
Heat oil in a skillet over medium-high heat. Add the diced onions, reserving some raw ones if you choose to top the finished dish. Saute until brown, then add the minced garlic and cook for another minute. Pour the sauce into the pan and bring it to a simmer, adding water if it dries out too much. Simmer and stir until the sauce cooks and begins to thicken, 10 to 15 minutes. Season with salt and pepper to taste.
Step 4
Once the sauce thickens, add the chips or fried tortillas. Use a handful or tortilla chips per person, or about 2 ounces per serving. Stir with a spatula to coat and turn off the heat. Top with shredded chicken for a lunch or dinner dish or fried or scrambled eggs for breakfast. Sprinkle the mixture with cheese and diced fresh onions and let it sit for a few minutes in the pan to melt before spooning it onto serving plates.
Tip
If you are using fresh tortillas, add scrambled eggs during the initial frying. Add them in during the last minute and let them cook so that they stick on the tortilla chips. Add them to the sauce as described previously. Use one or two eggs per serving.
Warning
Be careful of hot oil when frying food and use proper precautions. Keep leftovers in the fridge for no more than four days.