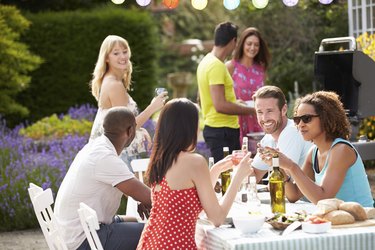 When you're planning any type of party, whether it's a formal anniversary gathering or just an opportunity to kick back and enjoy a few cold ones with friends, figuring out the venue and refreshments shouldn't consume your schedule. It's the guests who breathe life into your party, so don't skimp on setting aside time to thumb through your address book, find potential guests and let them know why your party is the place to be.
A Firm Date
No one enjoys getting an invitation for a party on a specific date, only to get a follow-up message from the host saying the date has changed. In the same manner, it's often difficult for guests to commit to a party that has one or more rain dates. Don't publicize the party until you're 100 percent sure about the date. By having a firm date, your guests can commit by adding it to their calendars.
Details and More Details
When inviting people to your party, provide as many details as possible to make your party sound irresistible. Tout the benefits of the venue, the mouthwatering food and drinks on the menu, and the entertainment. For example, specify that an award-winning food truck will be parked outside or that one of the city's hottest DJs will be spinning the tunes all night. State a fun theme; for example, tell your guests to dress in their zaniest 1970s-inspired outfits and have a chance at winning a prize for the best-dressed guest.
Social Media Is Your Friend
Although invitations via traditional mail are suitable, you can reach people more quickly, easier and at no cost using technology. In addition to inviting people by email, connect with your contacts through social media. Build a party page on Facebook and invite your friends to join it. Doing so also allows you to easily track those who plan to attend and those who can't make it. If many of your guests use Twitter, create a hashtag to allow them to connect with each other before the event. If it's a large party, providing a blog with all the details, a link to an online map and some pictures is also suitable. Social media can also help you send electronic reminders to ensure that no one forgets your party.
Pump the Benefits
You might not work in marketing, but part of your job as a party host is to make the event sound appealing to potential guests. List the benefits in your invitations and during discussions with those around you. For example, if one of the city's top catering companies is preparing the food, make sure people know. If you plan to provide entertainment for your guests' children, explain the details. Slogans can also work; for example, print: "This party will be a great opportunity to see people you haven't seen in years" on the invitations.
Recruit Some Help
If your party is big enough that the task of inviting people feels overwhelming, get a few trusted friends to give you a hand. Asking friends to help invite guests doesn't necessarily mean allowing them to invite anyone they choose. For parties with specific guest lists, divide the list among your helpers and have them reach out to people. Tailor the lists to your friends, if possible. For example, ask a colleague from work to invite people at the office and have a college friend invite old college classmates.