Things You'll Need
3 lbs. beef round eye roast

1/4 cup of vinegar

1/2 tsp. salt

Small onion (any kind)

1 pepper (sweet)

4 oz. tomato sauce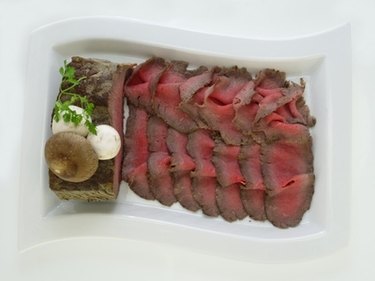 When you learn how to cook round eye steak, you will cook it quite often. It's a delicious steak that makes its own gravy. Serve over mashed potatoes and you have an easy and quick way to make delicious steak.
Step 1
Slice the beef into thin steaks about 1/4 inch thick or less. You can do this yourself or have your butcher cut it for you.
Step 2
Wash the meat with cold water and put it into a deep pot. Mix in vinegar and let set for at least one hour. For best results, let the meat sit in vinegar overnight.
Step 3
Put the pot on stove and stir in salt, garlic, pepper and tomato sauce. Cook for 30 minutes on high.
Step 4
Lower the temperature to medium. Cut the onion into rings, put them into the pot and stir them around. Add water to the pot so the meat doesn't burn and so that you will have a bit of gravy mixture. Serve over mashed potatoes.
Tip
Tenderizing the meat is optional it will still taste delicious. It is easier to cut meat when it is partially frozen. This recipe makes four to five servings.
Warning
Always keep a watch on the meat so the water doesn't get too low. Add water as needed.