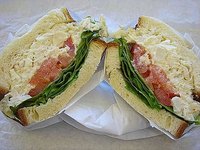 This quick and simple recipe for a chicken salad sandwich is easy to prepare because it uses few ingredients. But this chicken salad is still bursting with flavor. Although the chicken salad is most filling served as a sandwich, it is also delicious on crackers. The main ingredients in this chicken salad include canned chicken (or you can prepare your own if you want to go to the effort), mayonnaise, sweet pickled relish, and ground black pepper.
Things You'll Need
canned chopped cooked chicken breast
mayonnaise
sweet relish
ground black pepper
Bread of your choice (or crackers)
The first thing to do in preparing this chicken salad is to mix the chopped cooked chicken with the mayonnaise in a bowl.
The next step to making this chicken salad is to add enough of the sweet relish to your liking.
Finally, add your preferred amount of ground black pepper to the chicken salad. Now serve as a sandwich on your choice of bread (or on crackers) and enjoy!