These fun homemade watercolor paints not only stimulate a child visually, but also their sense of smell. And should a curious mind decide they want to taste the paint, rest assured these homemade paints are all made with non-toxic materials.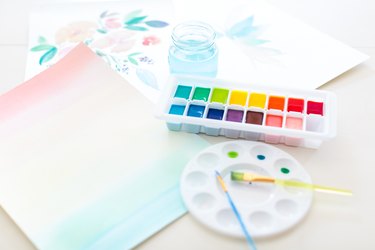 Fostering creativity helps children develop mentally, socially and emotionally. Creating art may boost a young child's ability to analyze and problem-solve in myriad ways. As kids manipulate a paintbrush, their fine motor skills improve; as they experiment with materials, they dabble in science.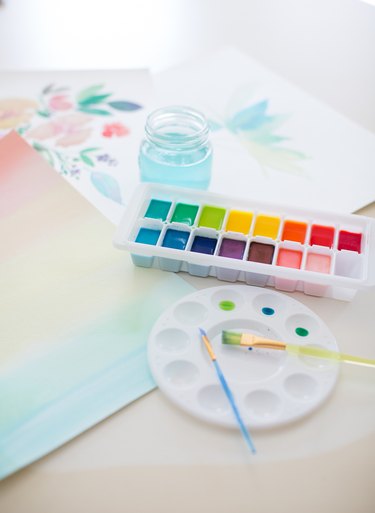 Things You'll Need
2 tablespoons of cornstarch


2 teaspoons of baking soda

2 tablespoons of water

Food coloring

Various fruit extracts

Ice cube tray

Measuring cup with spout

Stir stick or spoon
Tip
You can purchase various fruit flavored extracts at your local grocery store or order online. For the yellow, we used lemon extract, mint for green, strawberry for red, and so forth.
Step 1
Place 2 tablespoons of cornstarch into a measuring cup.
Step 2
Add two teaspoons of baking soda.
Step 3
Add one tablespoon of water and stir well.
Step 4
Add desired amount of food coloring to mixture.
Tip
Use this chart below as a guide to achieve desired colors, noting the drop amounts are approximate and you may need/wish to experiment with less or more.
Step 5
Step 6
Add a drop of desired extract and stir well.
Step 7
Pour mixture onto ice cube tray or muffin tin.
Step 8
Set tray aside and allow to dry for 24 to 48 hours.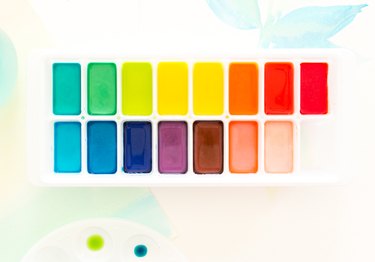 Once paint is dry, you can 'activate' the paint by spritzing it with water just like you would regular watercolor, or use vinegar and watch them 'fizz' when the vinegar comes into contact with the baking soda. Have fun experimenting with various colors and let your little budding artist's imagination bloom.