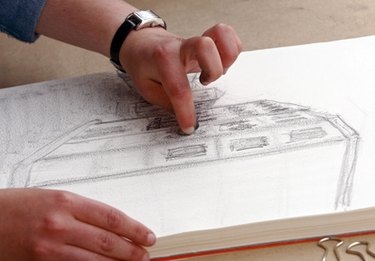 How to Keep Face and Hand Proportions Realistic When Drawing the Human Form. Many years have been dedicated to the study of human figure proportions. Once an artist understands proportion, it is easy to apply them to drawings when sketching a human form. Use the tips below to keep the face and hand proportions realistic when drawing the human form.
Step 1
Begin by sketching a proportionate body with a torso, shoulders, legs and arms.
Step 2
Sketch a head on top of a figure. The height of the head should be roughly 1/8 the height of the entire body for realistic drawing. The width of the head is roughly 1/3 of the shoulder width for a male figure, but it is less for a female figure.
Step 3
Place on the features of the face. The eyes need to be midway between the chin and top of the head, and the forehead takes up the top half of the head. The nose needs to be midway between the eyes and the chin, and the mouth is midway between the nose and the chin.
Step 4
Finish the arms by sketching on the hands. The length of the hand from wrist to the end of the middle finger should roughly be the length of the inner forearm.
Step 5
Keep the fingers roughly the same size as the palm of the hand. When sketching the hand, bend the fingers at the knuckles for a more natural look.
Step 6
Check that the hand is roughly the same size as the face. The hands and face should be close in size if they are correctly proportioned. The length of the face is the same as the length to the longest point of the hand.