Things You'll Need
Fork

Clamp

Needle-nose pliers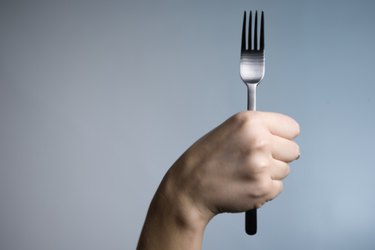 A fork bracelet is a fashion accessory made of a bent fork. Store-bought fork bracelets can be costly, but you can create your own fork bracelet at home for a fraction of the price. You can use textured, colored or antique metal forks to create a unique bracelet that reflects your individuality and personal style. Fork bracelets also make unusual gifts for friends and family. Needle-nose pliers and clamps are available to purchase from craft stores or online retailers.
Step 1
Insert the handle of the fork into the opening of the clamp. Turn the handle of the clamp to close the walls and securely hold the fork in place.
Step 2
Clamp the head of the fork with the needle-nose pliers and begin to gently rotate the pliers, causing the fork to bend. Continue to bend the fork until you are left with a curved fork that will fit snugly around your wrist.
Step 3
Clamp the needle-nose pliers around one of the tines of the fork. Carefully twist the pliers to create a small loop in the tip of the tine. Repeat this process as desired to add an ornamental and personalized finish to your fork bracelet.
Tip
Typically the cheaper the fork, the easier it is to bend.
The fork bracelet can be polished with a jewelry cleaner.
Warning
Keep your fingers away from the tips of the pliers and the center of the clamp when in use.