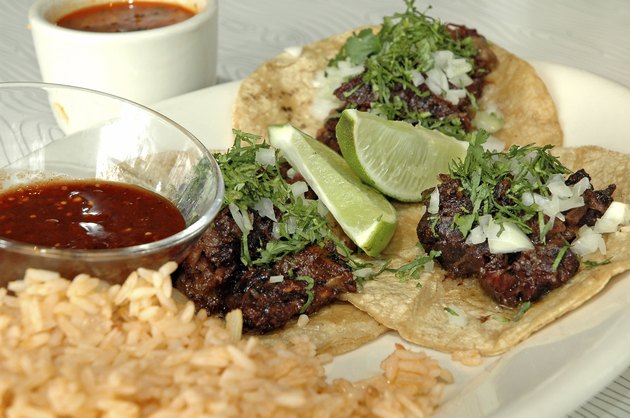 Super Bowl snacks work best when they are filling and easy to eat with one hand while you cheer your team on, and mini tacos are a touchdown for the home team. Make a whole batch at once or serve empty shells and a stadium's worth of fillings so your football fans can create their own.
Choose Your Tortilla Type
Both flour and corn tortillas are appropriate for mini tacos; it just depends on personal taste and on whether you want your taco shells soft or hard, warmed, baked or fried. Flour tortilla come in sizes from about 6 inches in diameter to nearly the size of a pizza crust. If you have access to the largest size, use a glass or cup with a 3-inch diameter opening and the tip of a sharp knife to cut out mini tortillas. Corn tortillas tend to be about 5 or 6 inches across, so simply trim the edges with sharp kitchen shears. Cut the excess strips into shorter lengths and fry them in hot oil for a crunchy garnish if you like.
Prepare the Shells
Warm soft flour tacos in the microwave, layered between damp paper towels or in a microwave-safe tortilla warmer. Don't heat more than four or five at a time or for more than 30 seconds on high or they dry out. Or warm them in the bottom of a dry cast-iron skillet, turning them once with tongs. Corn tortillas can be warmed the same way but their flavor benefits from being heated in a little bit of oil, turned once after about 30 seconds and then drained on paper towels. Make crisp taco shells by frying flour or corn tortillas in hot oil, folding them in half and holding them slightly open with tongs when you turn them. Bake mini flour tortillas by pressing them into a greased muffin pan and brushing them with olive oil or melted butter. Bake them at 375 degrees Fahrenheit for 10 minutes or until they are crisp. This does not work as well with corn tortillas, which tend to tear.
Figure Out the Filling
Start by counting how many people you'll be feeding and where the gathering will be. Serving a football feast in your own home gives you leeway to get fancy with fish tacos, which requires the fish pieces be fried to order so they keep their crunch. Large crowds are simplest to feed with ground or shredded beef, chicken or pork because they are easy to transport and keep hot and the flavors continue to develop rather than go stale. Black beans and other bean taco fillings are simple to make ahead of time and in large quantities. Season the filling with salt, pepper, cumin, thyme, oregano and plenty of chili powder, and add canned tomatoes or a little spicy Mexican sauce for moisture. Add fresh or dried chilies for an extra kick.
Gather Your Garnishes
You may put almost anything on top of a taco, but certain toppings complement particular fillings better than others. For example, traditional ground or shredded beef, pork or chicken goes well with shredded Colby and Monterey Jack cheese, chopped tomatoes, pico de gallo or salsa, sliced black olives and sour cream. Black-bean tacos benefit from the tart creaminess of sour cream and the tangy sweetness of mango salsa. Shrimp or fish tacos, whether the fish is grilled or fried, need only a squeeze of lime juice, a sprinkle of Cotija cheese and a scatter of chopped, fresh cilantro -- but you can load them up with whatever you prefer.