Scones are the perfect treat for any time of day, and this recipe uses a perfect scone base that you can customize to your own personal taste preference -- be it sweet or savory. Enjoy this recipe for malt and dark chocolate chunk scones, or try other additions suggested below the recipe. No matter how you flavor them, following these simple instructions delivers the most delicious, buttery and fluffy scones every time.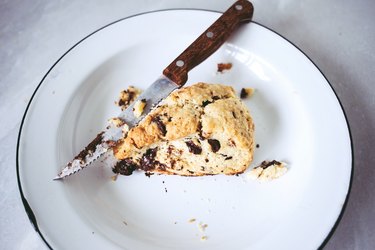 Things You'll Need
4 ounces / 115 grams cold butter

3 cups all-purpose flour

1/3 cup superfine sugar

1 1/2 tablespoons baking powder

1 teaspoon sea salt

1 cup chopped dark chocolate

3 teaspoons malted milk powder

1 1/2 cups heavy cream, plus more for brushing

Raw sugar, for sprinkling
Malt and Dark Chocolate Chunk Scones
Step 1: Preparation
Heat the oven to 425 F / 220 C. Measure out all ingredients to have them handy.
Cut the butter into 1/2-inch / 1.2-centimeter cubes, and freeze for 10 minutes before using.
Step 2: Combine Dry Ingredients
Whisk together the flour, sugar, baking powder and salt in a large bowl.
Step 3: Cut In the Butter
Using a pastry cutter, or your fingertips, quickly cut or blend the cold butter into the flour mixture until it resembles a coarse, pebble-like meal. Some larger chunks remaining in the dough are OK.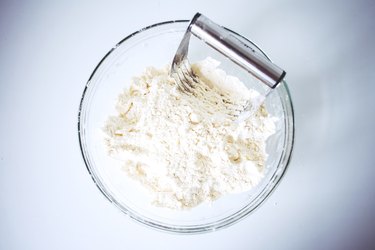 Step 4: Mix In the Additions
Using a wooden spoon, stir the malt powder and chocolate chunks into the flour-butter mixture.
Step 5: Add the Cream
Stir the cream into the flour-butter mixture with a large wooden spoon, mixing until the dough begins to come together. The flour should not be fully incorporated at this point. Do not over-mix.
Step 6: Work the Dough
Transfer the dough onto a lightly floured surface, and quickly knead it to bring it together. Flatten the dough into a 3/4-inch / 2-centimeter thick mound, fold it in half and then give it a quarter turn and flatten it again. Repeat this process 3 more times until you achieve a roughly combined but smooth dough.
Step 7: Shape and Cut
Flour the work surface again, and shape the dough back into a 3/4-inch / 2-centimeter thick round that is 6 inches / 15 centimeters in diameter.
Using a bench scraper or knife, cut the dough into 4 equal triangles.
Step 8: Cut Again and Chill
Cut each triangle in half again to make 8 even triangles. Place them on a parchment-lined baking tray, and chill in the freezer for 10 minutes. This will help the scones hold their shape during baking.
Step 9: Bake
When the scones are ready to bake, brush their tops with cream, and sprinkle raw sugar on top. Bake for 15 to 20 minutes or until the tops are golden brown and a toothpick inserted into the center of the scones comes out clean. Cool the scones on a wire rack.
The scones are delicious served warm with a pat of butter, jam or honey.
Tip
You can customize this recipe for either sweet or savory scones, and flavoring additions are entirely up to you. Just remember to keep the additions to no more than 1 cup.
For savory scones, use only 1 tablespoon of sugar and increase the salt to 2 teaspoons. Before baking, sprinkle with sea salt and cracked black pepper instead of sugar. Tasty additions: herbs, dried fruit, cured meat, nuts or cheese.

For sweet scones, use fresh or dried fruit, nuts or chopped chocolate.
Be creative! Add in a dash of flavoring -- spices, espresso powder, vanilla extract or even citrus zest.
Classic combinations include: cinnamon and chocolate, apricot and thyme, raspberry and vanilla bean, currant and rosemary, Parmesan and sage, blue cheese and pecan or cheddar and mustard.