Mystery, allure and danger: spies have it all and are inspiration for an easy to make Halloween costume. Using items found in most closets, like a fancy dress or a trench coat, it's possible to quickly assemble a spy ensemble for a costume party or Halloween bash. Spy costumes can also be customized in almost any way imaginable. Wear a fur trapper hat and adopt a Russian accent to become a KGB agent or make a fake ID and become the top guy at the FBI -- they sky's the limit.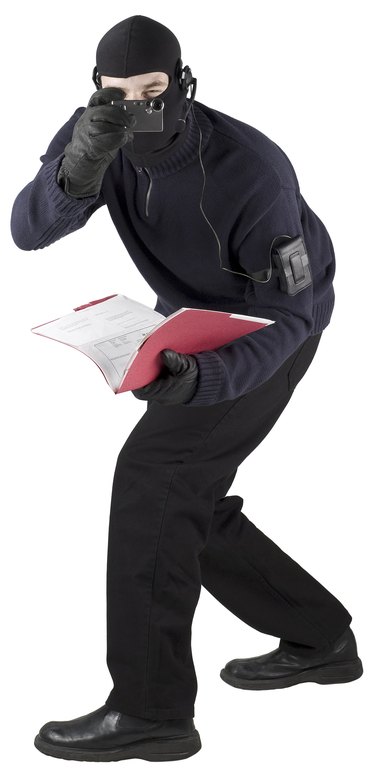 Things You'll Need
Suit

Makeup

Fake Scar

Trench Coat

Russian-English Dictionary

Toy Knife

Martini Glass

Toy Gun

Binoculars

Dress
Step 1
Select a main piece of clothing to serve as the base of the spy costume. A suit or tuxedo will give men a classic, James Bond inspired look. A classic trench coat will also work and the collar can be worn up for added mystery. For women, a sultry, floor-length dress or cocktail gown creates a femme fatale aura. Alternatively, try a Middle Eastern belly dancing costume like that of famed spy Mata Hari.
Step 2
Add a little makeup, like smoky eyes covered with dark eyeshadow, liner and mascara. Finish with bold red lipstick and a pretend beauty mark. Men can give their costume a dangerous look by streaking their cheek with a fake scar or cut or wearing a faux-mustache with ends long enough to twirl. Finish with a dramatic hairdo, like a sleek ponytail or wavy blowout for girls. Men can slick their hair back with gel or cover it with a fedora.
Step 3
Accessorize the spy costume with a few gadgets and gizmos inspired by movies, television shows and even real life spies. A pair of binoculars can be worn around the neck for getting sneak peeks at enemies and a martini glass makes for a prop worthy of Bond. A female spy can tuck a toy knife or a few playing cards into a garter belt peeking out from under her dress. A toy gun or even a Russian-English pocket dictionary will add an aura of danger, excitement and humor.
Step 4
Use body language and a little drama to top things off. Looking like a spy is one thing, but acting like one will complete the look. Bend and twist around corners, scoping out the room as you enter. Carry a small camera and take snapshots of partiers while hiding behind furniture and plants. Develop a seductive walk or even an odd limp to give the spy persona mystery.
Warning
Be careful if carrying a toy weapon, which could cause confusion or panic in the wrong situation.