Things You'll Need
Non-stick spray

24 frozen mini tart shells, 2 inch

Muffin tins

6 slices bacon

Deep non-stick skillet

Paper towels

Plate

6 eggs

Mixing bowl, medium

Whisk

1 1/2 cups heavy cream

1/4 cup all-purpose flour

2 teaspoons garlic salt

2 teaspoons onion powder

1 teaspoon chili powder

1/2 teaspoon ground cumin

2 cups shredded Cheddar cheese

1/2 cup diced green bell pepper

1/2 cup diced red bell pepper

1/2 cup cubed fully cooked ham

1/4 cup salsa

1/2 cup shredded Cheddar cheese

Toothpick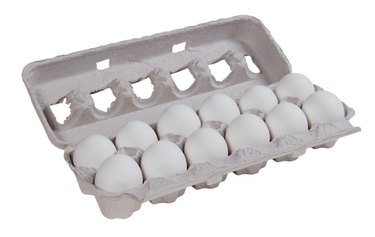 Try a mini breakfast quiche the next time you entertain. Mini quiches are perfect for entertaining a large group for breakfast or brunch. These delicious little gems are quick and easy to make. They can contain a variety of ingredients, such as spinach, bacon, vegetables, sausage and, of course, eggs. Mini breakfast quiches freeze well, so they can be made ahead of time and reheated the morning of your event. Try this enjoyable recipe, which includes peppers, ham and bacon -- and a bite of salsa.
Step 1
Preheat the oven to 375 F.
Step 2
Spray the muffin tins with non-stick spray. Coat each cup evenly, including the sides.
Step 3
Place a frozen tart shell into each space in the muffin tins and place to the side.
Step 4
Fry the bacon in a deep, nonstick skillet over medium-high heat, flipping periodically, until it is evenly browned.
Step 5
Place the bacon on a plate lined with four paper towels stacked on top of each other.
Step 6
Crumble the bacon after it has cooled.
Step 7
Break the eggs into medium mixing bowl. Scramble the eggs with a whisk.
Step 8
Add the cream, flour, garlic salt, onion powder, chili powder and cumin. Continue whisking until smooth.
Step 9
Mix in the crumbled bacon, 2 cups cheddar cheese, green bell pepper, red bell pepper, ham and salsa.
Step 10
Pour the mixture into the tart shells; top with shredded cheddar cheese.
Step 11
Bake in the oven about 20 to 25 minutes or until a toothpick inserted into the middle of a quiche comes out clean.
Tip
Fill the tart shells about 2/3 full. Overfilling may result in the eggs running over the side of the muffin tins. Sour cream can be substituted for heavy cream.