Things You'll Need
pie pumpkin

1 12 oz. can of evaporated milk

1 cup sugar

1 teaspoon ground cinnamon

1 teaspoon ground ginger

1 teaspoon ground cloves

1/2 teaspoon of salt

2 large eggs

1 9-inch pie shell

For pie shell:

1.5 cups all-purpose flour

1 cup firm unsalted butter

1/3 cup ice water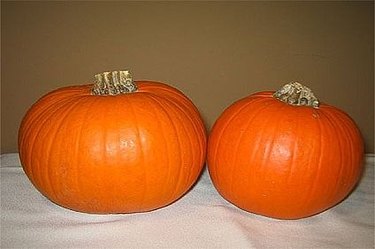 With its delicious and creamy texture that's hard to resist, pumpkin pie is the dessert of the holiday season. While usually made with canned pumpkin, pumpkin pie that is made from scratch is not only an even more delicious seasonal treat but it's definitely worth the effort. Why not make a treat that's as rewarding as it is tasty?
Step 1
Cut your pie pumpkin in half and remove the stem. Scoop out the seeds and extra string. Place both halves on a foil lined baking sheet and cover with foil. Bake your pumpkin at 350˚ for about 1.5 hours or until tender. Scoop out the flesh, which should be quite soft and puree the pumpkin using a hand or regular blender
Step 2
After your pumpkin has been prepared, combine together the sugar, cinnamon, ground cloves, ginger and salt. In a separate bowl beat eggs and stir in your dry ingredients as well as your pumpkin. Mix well and slowly add in the evaporated milk while you stir. Make sure the filling is blended and smooth. Preheat your oven to 375˚
Step 3
For your pie shell cut your butter into the flour mixture. Use an electric mixer to combine the ingredients. Pour in the ice water a little at a time (on low speed) until your mixture begins to clump and hold together. Remove the formed dough from the mixer and sprinkle a bit of flour before wrapping in plastic wrap and refrigerating for an hour. Remove the dough after it has set in the refrigerator and roll out the dough using a pie crust bag or placing it in between wax paper. Place the dough in your pie pan and shape the edges however you like. You can also use scissors to cut off the top edge. Pour your pumpkin mixture into your pie shell.
Step 4
With your oven already pre-heated, bake pie in the middle of the oven for 50 to 65 minutes. Cool and serve with whipped cream with a dash of cinnamon on top. You have just made pumpkin pie from scratch!
Tip
If you would really like to make full use of your pumpkin, why not bake the pumpkin seeds! Remove the string from the seeds, run them under water and put them in a plastic bag. Add about 1 teaspoon of oil (olive oil or grapeseed oil are healthy alternatives) and shake vigorously until all the seeds are coated. Spread them out on a baking sheet and toast them in a 375 degree oven for 12 minutes or until brown. Sprinkle with salt and enjoy! Pie pumpkins can be found during the holidays at your regular supermarket or specialty health food stores. They are much smaller than regular pumpkins and taste sweeter. As it gets closer to fully baking, insert a toothpick into the pie to check how well it has cooked. If the toothpick comes out clean, it is probably ready to be taken out. If making the pie shell from scratch is too much hassle, you can always use store bought shell. I find that using a graham cracker shell enhances and gives a great new kick to a traditional recipe