Homemade marshmallows seem like a feat of culinary genius, but in reality, it's pretty simple. Need the perfect way to impress at the next cook-out or camping trip? How about taking those s'mores to the next level with some homemade marshmallows? The only problem is that you will never stop getting requests to bring your "world famous" marshmallows to the next get together.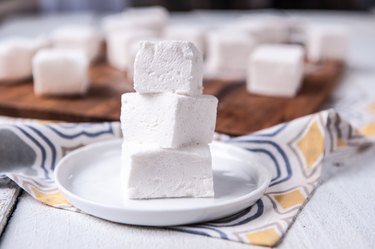 Things You'll Need
Powdered sugar

3 ½ envelopes unflavored gelatin (such as Knox)

1 cup ice cold water, divided

2 cups granulated sugar

½ cup light corn syrup

2 large egg whites

½ tsp salt

1 tablespoon vanilla extract
Tip
Make it your own! Add any extract flavor that you love to make your own version of this delicious treat.
Step 1: Prepare the Pan
Prepare the pan. Grease well (butter, margarine, or vegetable shortening) and then cover in powdered sugar.
Step 2: Start the Gelatin
In the bowl of a stand mixer add 3 1/2 packets of gelatin to 1/2 cup ice cold water. Let stand while you prepare the sugar.
Step 3: Boil the Sugar
In a pan over medium heat stir together 2 cups of granulated sugar, 1/2 cup corn syrup and 1/2 cup water. Once the sugar has dissolved, turn the heat to high, allow to boil until the mixture has reached 240 degrees Fahrenheit on a candy thermometer.
Step 4: Add the Hot Sugar to the Gelatin
Turn the mixer on low and slowly pour the hot sugar into the gelatin mixture. Once all the sugar has been added, raise speed to high. Beat on high until light and fluffy and tripled in volume, about 6 minutes.
Step 5: Add the Egg Whites
In a medium bowl, add the egg whites and salt. Beat with a hand mixer until stiff peaks form. Gently fold in the egg whites and vanilla into the marshmallows.
Step 6: Add to the Pan
Pour the marshmallows into the prepared pan. Smooth into an even layer, and then sprinkle with powdered sugar.
Step 7: Allow to Set, Then Cut
Allow to sit at room temperature until set, about 3 hours. Invert the pan on a flat surface, and slice into squares.
Tip
Make them cute! Use a cookie cuter to cut out shapes to match your party theme.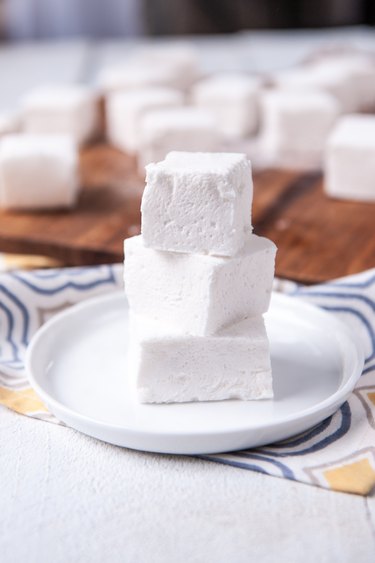 Tip
These marshmallows will stay fresh 3 to 4 days in a ziplock bag.