Things You'll Need
Nut cracker

Baking sheet

Non-stick spray

Salt

Vegetable oil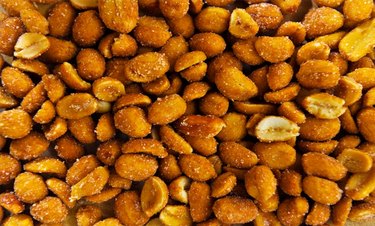 How to Roast Nuts. There's nothing better than a handful of warm roasted nuts that are slightly salted. Not only do certain nuts contain heart healthy Omega-3 oils, but they are also a great source of fiber and a healthy alternative to potato chips when eaten in moderation. Here's how to roast nuts.
Step 1
Preheat the oven to 425 degrees.
Step 2
Crack or shell a selection of nuts. If the nuts have skins, remove those as well.
Step 3
Spray the baking sheet with non-stick spray.
Step 4
Toss the nuts in the vegetable oil to make sure they are lightly coated. You will need 2 tbsp. of vegetable oil for every cup of nuts you are roasting.
Step 5
Spread the nuts on the baking sheet and sprinkle with salt to taste.
Step 6
Roast the nuts in the oven for 5 to 10 minutes, but be careful not to over roast them. Because they have a high oil content, they will continue to cook internally even after they are removed from the oven. You'll know they are done when the nuts become fragrant and are lightly brown.
Tip
For a twist on this recipe, "dry roast" the nuts. Simply remove the step of tossing them in oil. This will make the recipe even crunchier and a tad bit healthier as the fat content will be lower.