Things You'll Need
Golden crackle paste

Sturdy wood panel

White acrylic gesso

Fluid acrylic paints

Spray bottle of water

Paper towels

Hair dryer

Fluid acrylic Interference Blue (fine)

Paint brushes

16 oz. golden self-leveling acrylic gel

Embellishments such as shells, glitter and stones if desired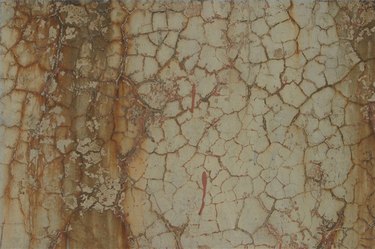 How to Create an Acrylic Crackle Painting. Creating an abstract painting for your home or office is easy. There is no need to be a professional artist to make a colorful and attractive painting. A special effect is achieved by using an acrylic crackle paste on an ordinary wooden panel, then when paint seeps into the cracks and crevasses of the finish, a beautiful abstract painting is created. Here is how to make this type of painting.
Prepare the Surface
Step 1
Prime a sturdy, wooden panel with white acrylic gesso and let it dry.
Step 2
Apply acrylic crackle paste to a sturdy wooden panel. Apply the paste from about 1/4-inch to 1-inch thick and spread it in different directions across the surface to keep the crackles natural looking.
Step 3
Employ a variety of tools like a plastic credit card, a putty knife and a palette knife to spread the acrylic crackle paste. Let it dry 12 to 24 hours.
Step 4
Pour a 1/2 teaspoon of four different fluid acrylic paint colors into separate containers. Suggested colors are Phthalo Blue, Transparent Red Iron Oxide, Phthalo Green and Dioxizine Purple but other colors can also be used as well.
Step 5
Spray the crackle surface all over with a water sprayer, wetting it well. Liberally apply the different paint colors to the entire wet, cracked surface using a wide brush. Use varying sizes and random patches of color.
Step 6
Wet the surface again with water and blot the excess paint on the top surface with paper towels. Keep doing this until the surface is white with color between the cracks.
Step 7
Use a hair dryer to dry the surface quickly so the color in the cracks will not seep up onto the top surface again.
Finish Your Masterpiece
Step 1
Utilize a full palette of colors now and paint an interesting abstract scene on the surface. Use brushes, sponges, toothbrushes and eyedroppers to get a variety of effects. Splatter with the toothbrush, dab with the sponge and use the eyedropper to drop color from a distance or hold it close and flood an area.
Step 2
Keep adding color until you get the desired effect. Let this dry 12-24 hours.
Step 3
Pour 16 oz. of self-leveling acrylic gel into a mixing container. Add four to six ounces of water to make it thinner so it will seep into the cracks. Add 3 or 4 drops of Interference Blue paint to add an iridescent effect and mix well.
Step 4
Hold the painting upright and pour the mixture onto the top end of the painting. Keep it upright and let gravity move the gel downward. When it gets to the bottom, rotate in different directions to let the gel seep well into the cracks.
Step 5
Use a putty knife to help move the gel around until the entire surface is covered. Place the painting flat.
Step 6
Add other items such as glitter, gems, shells and other objects if desired while the gel is still wet.
Step 7
Let the acrylic crackle painting lie flat and dry 12 to 14 hours, then hang your acrylic crackle painting in a place of honor!