If you love pumpkin pie, here's an alternative that elevates pumpkin to a whole new level. And if you're not a fan of pumpkin, you might become a convert after just one bite of this. With its crunchy pecan crust, sweet pumpkin filling and cream cheese frosting, you'll want to enjoy this easy-to-make dessert throughout the year, not just around Halloween or Thanksgiving.
Things You'll Need
9-inch by 13-inch cake pan

Wax paper

15-ounce can of pumpkin

12-ounce can of evaporated milk

1 cup of sugar

1/2 teaspoon of sugar

3 eggs

1 box of yellow cake mix

1 cup of chopped pecans

2 sticks of melted butter

8-ounce cream cheese, softened

3/4 cup whipped topping

1/2 cup of powdered sugar
Step 1: Line a Cake Pan
Preheat the oven to 350 degrees Fahrenheit. Line a 9-inch x 13-inch x 2-inch cake pan with wax paper, making sure that the paper goes all the way up the sides as well.
Step 2: Mix the Pumpkin Filling
Mix the pumpkin, evaporated milk, sugar, eggs and cinnamon together with a wooden spoon or whisk until it has an even consistency.
Pour the mixture into the cake pan.
Step 3: Sprinkle the Cake Mix
Evenly sprinkle the entire box of yellow cake mix over the pumpkin mixture.
Step 4: Add Chopped Pecans
Sprinkle the chopped pecans evenly over the cake mix. Pat the pecans down with your fingers.
Step 5: Cover with Melted Butter
Melt the butter in the microwave oven or on the stovetop, being careful not to burn it. Let the butter cool slightly, and spoon it evenly over the entire surface. Bake in the 350 degree oven for 40 minutes.
Step 6: Invert the Pan
Remove the pan from the oven and let it cool slightly. Then invert the pan onto a tray.
Carefully peel off the wax paper.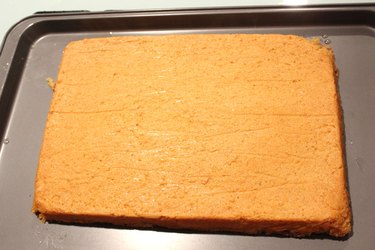 Step 7: Mix the Frosting
Combine the cream cheese, whipped topping and powdered sugar until smooth.
Spread the frosting over the pumpkin while it's still warm. Refrigerate overnight.
Step 8: Cut Into Squares
Cut the pumpkin crisp into squares. Wipe the knife with a paper towel after each cut for clean edges.
Sprinkle cinnamon over the pumpkin crisp squares right before serving. You now have a scrumptious new dessert to be thankful for.