Although it's September, and the apple and pumpkin craze is strong, don't rush into fall just yet — at least, not until you savor what summer still has to offer and bake a bread filled with fresh zucchini and blueberries! Set your bread baking fears aside, because this sweet loaf is pretty much foolproof: there's no yeast or rising techniques to waste any more time. All you need to do is mix and bake ingredients in five simple steps to create a treat that'll make you glad you haven't said so long to summer just yet. Autumn may be right around the corner, but this recipe will give you one last reason to celebrate warm, sunny weather.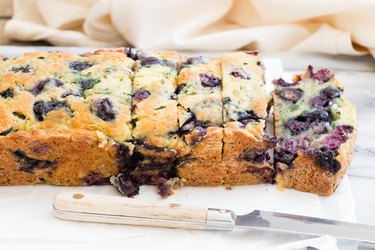 Things You'll Need
1 egg


1/3 cup sugar

1/4 cup plain Greek yogurt

1/4 cup melted coconut oil

1 teaspoon vanilla extract

1 cup and 3 tablespoons all-purpose flour

1/2 teaspoon baking powder

1/2 teaspoon baking soda

1/2 teaspoon salt

1 cup grated zucchini

1 cup fresh or frozen blueberries
Step 1: Combine Wet Ingredients
Whisk together all of the wet ingredients until smooth.
Step 2: Add the Dry Ingredients
Add 1 cup of the flour, leavening agents and salt. Stir until combined — but don't over-mix!
Step 3: Add the Zucchini
Add zucchini to the batter and stir until it's just incorporated.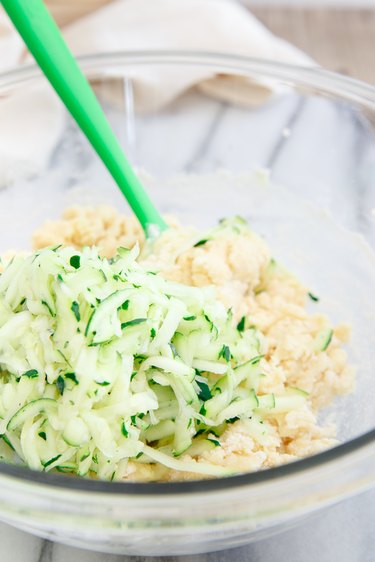 Tip
Unlike most recipes, don't drain or squeeze any excess liquid from the zucchini in this recipe. The additional moisture is needed for cooking!
Step 4: Coat Blueberries With Flour
Toss the blueberries with the remaining 3 tablespoons of flour until they're fully coated. Then, add the blueberries to the batter and stir until they're just incorporated.
Step 5: Bake the Bread
Grease a 9 inch x 5 inch loaf pan with cooking spray and transfer the batter into the pan. Bake at 350 degrees Fahrenheit for 50 to 60 minutes, until the loaf is golden brown around the edges and set in the middle. Then, remove the bread from the pan and let it cool on a wire rack for at least 15 minutes before slicing. Enjoy the last taste of summer!