Things You'll Need
Apples

Seedless grapes

Knife

Cutting board

Rounded toothpicks
Stimulate children's creativity and get them to help in the kitchen by putting together these fun snacks. Edible race cars are fast and easy to make and kids will be zooming them into their mouths before you can say, "Drivers, start your engines!" Ask kids to be your "pit crew" and compete for the best time in putting in the grape tires. Let them know that in this case, it is OK to play with their food and have fun, as long as they eat it too! Top them off with a checkered flag made from a free printable. Get ready, set, go!
Step 1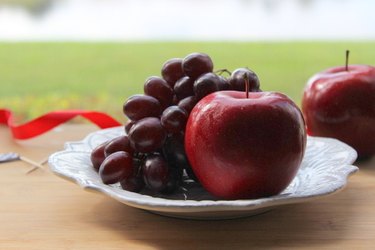 Wash and prep your fruit. To remove wax residue, rinse with water and rub with a mixture of 1 teaspoon baking soda and 1 teaspoon salt. Rinse again.
Step 2
Cut the apple in quarters and cut each quarter in thirds. Each apple yields 12 individual snacks.
Step 3
Make a straight cut on the apple wedges to remove the hard core and seeds.
Step 4
Push two toothpicks transversely through each flat end of the apple wedge.
Step 5
Push four whole grapes through the toothpicks ends. The bigger the grapes, the more stable the car will be.
Step 6
Tip
For a fun twist, use tangerine or oranges wedges. Bananas and celery sticks also make good race cars. For the wheels, try using blueberries instead of grapes.
Skip the toothpicks and adhere halved grapes with creamy peanut, almond or other nut butter.
Warning
Ask little kids to help once the cars are ready to assemble and all knives have been removed from the working surface.
Supervise small children while eating, as whole grapes pose a choking hazard.