Things You'll Need
Serving items (tongs, bowls, spoons)

Name cards (optional)

Assorted toppings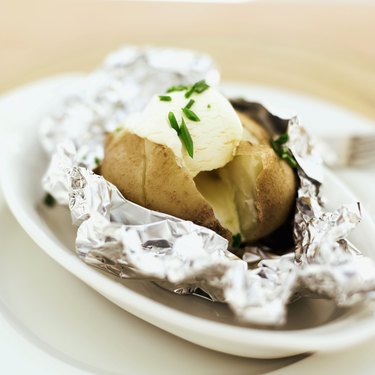 Uncle Jim might like steak at every meal, but the maid of honor is a strict vegan. Creating a baked potato bar at your wedding reception guarantees that everyone will find something he likes to eat, and it's the kind of casual meal that gives your reception a warm rather than stuffy air. For most couples, venue staff or caterers will handle the preparation and serving of the buffet. No matter who's in charge of dishing out the sour cream, you should be the ones to call the shots for your baked potato bar.
Step 1
Choose the potatoes you'd like to bake, or talk to your caterer about your wishes. Russet potatoes that are firm and free of cracks are ideal. Plan on each guest eating 1 potato, and provide an extra 10 to 20 percent in case some guests want 2nd helpings. If the potato bar is the main course, prepare more extra potatoes; if it's just 1 option, most guests won't eat seconds. Include sweet potatoes if you wish.
Step 2
Make a list of toppings you want to offer. Include 3 or 4 protein options, like shredded chicken, black beans and beef chili. Choose at least 5 or 6 additional toppings. Plan to serve classic fixings like sour cream, shredded cheddar cheese and crumbled bacon as well as things like diced avocado, chopped mixed vegetables, tuna and crumbled corn chips. Incorporate toppings from each of your backgrounds to symbolize your new union; for instance, offer your favorite Italian meatballs and the spicy chilies that represent your spouse's Latin background.
Step 3
Gather supplies for the bar, or verify that the caterers will provide all necessary equipment. In addition to dishes and silverware for the guests, you'll need bowls and serving utensils for each topping, tongs and a large chafing dish for serving the potatoes, and possibly cards labeling each topping. For a large crowd, plan on creating a two-sided buffet, which means you'll need doubles of all serving items.
Step 4
Request that the potatoes be baked in the hours just before the buffet begins, because the longer they sit, the softer the skins will get. Your caterers should have large ovens for baking big batches of potatoes at a time.
Step 5
Give instructions to the serving staff about how you want the buffet to be arranged. Ask that the potatoes be cut open before they're served so guests can easily scoop in toppings. Request that the staff replace cold or hot foods every 30 minutes and replenish all toppings as needed.
Tip
If you're having a modest wedding or a casual backyard affair without caterers, serving a baked potato bar is still possible -- but only if your reception is small and you have friends or family who are willing to miss out on some wedding festivities to bake the potatoes, set up the bar and restock ingredients. You'll also need to make a baking plan with whoever is in charge of the potatoes. They'll need to be finished just before serving time or kept warm if they're baked earlier in the day. "Dr. Potato," on the Idaho Potato Commission website, suggests wrapping individual spuds in foil and storing them in a cooler that has been warmed with boiling water. Baked potatoes should have an internal temperature of about 210 degrees Fahrenheit, the site advises.