Things You'll Need
Barbecue sauce or ingredients

Seasoning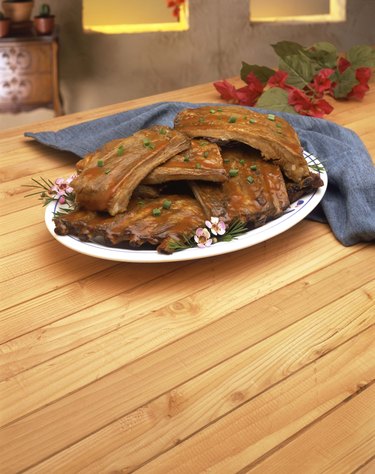 Some of the most flavorful venison is located between the ribs of the animal. However, the ribs are often discarded or the rib meat is incorporated into ground venison. Even though the ribs may not be quite as meaty as pork or beef ribs, the distinctive flavor makes them worth keeping. Cut the slabs into serving-size pieces, then prepare mouthwatering ribs using a variety of methods and flavorful sauces.
Easy Oven-Roasting
Step 1
Sprinkle the ribs with salt and pepper. Arrange the ribs, in a double layer in a large roasting pan.
Step 2
Place the pan an oven preheated to 325 degrees Fahrenheit and bake the ribs for an hour.
Step 3
Increase the temperature to 350 F. Pour your favorite bottled or homemade barbecue sauce over the ribs and cook them for an additional hour-and-a-half, or until the ribs begin to turn black around the top edges.
Step 4
Turn the ribs with tongs, then cover the pan and cook the ribs for 30 minutes, until the sauce is thick and the ribs are tender. If the sauce is too thick, stir in a small amount of water or broth.
Step 5
Place the ribs on a plate and serve them immediately.
No Fuss Slow Cooker Ribs
Step 1
Place the ribs in a slow cooker. Add a sliced onion, if desired.
Step 2
Cover the ribs with your favorite barbecue sauce, then stir lightly until the ribs are evenly coated. Sprinkle the mixture lightly with garlic salt, if desired.
Step 3
Cook the ribs on low 8 to 10 hours, or until the meat is easily separated from the bone with a fork.