Things You'll Need
Seasonings to taste

Vegetables

Pasta, optional

Seasoned bread crumbs

Salad dressing or milk, optional

Frying pan or deep fryer

Cooking oil

Slotted spoon

Paper towels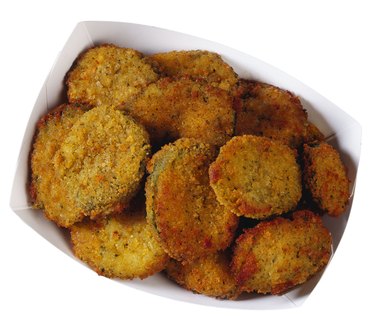 When you've run out of people to share your zucchini garden overflow with, freeze the squash to preserve some of that summer goodness to enjoy throughout the year. Thaw frozen zucchini at room temperature and you're ready to go. Saute it for use in side dishes or salads, bake it into main dishes, or simply fry it up for a tasty snack.
Step 1
Simmer the thawed zucchini slices with salt, pepper and garlic, along with other vegetables, for a tasty, spicy side dish. Simmer briefly until the vegetables are tender. Don't overcook the vegetables, or they will get too mushy. Or cook the slices briefly in the microwave on high or until they are crisp-tender. Then add salt, pepper and shredded cheddar cheese. Return them to the microwave and cook for another 30 to 60 seconds to allow the cheese to melt.
Step 2
Place thawed zucchini slices in a slow cooker with peppers, onions and peeled, chopped tomatoes. Add Creole seasonings, garlic, and cut-up cooked chicken and sausage. Cook on low for 2 to 2 1/2 hours. Serve over rice for a zesty, filling Creole-style main dish.
Step 3
Fry zucchini slices by dipping the moist, thawed slices into Italian salad dressing, olive oil or a little milk. Then coat them with a mixture of seasoned bread crumbs and spices. Carefully add the coated slices to hot oil and fry for three to four minutes, turning occasionally, until the coating is golden brown and the zucchini is heated through. Remove the zucchini from the oil using a slotted spoon. Drain the fried zucchini on paper towels to remove excess oil.
Tip
Freeze zucchini in cubes to use for soups or vegetable side dishes, or shred it to include in baked goods and casseroles.