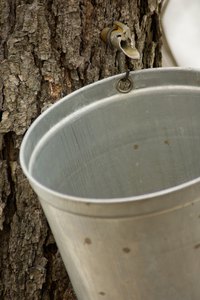 In much of New England and Eastern Canada, springtime is mapling time. That's when woodlot owners throughout the region tap their maple trees for the sweet sap that becomes maple syrup. It takes 30 to 40 quarts of sap to make 1 quart of table-ready syrup. Traditionally the sap was boiled in large cauldrons over a wood fire to concentrate the sugar content, giving the syrup a pleasant hint of smoke. For backyard hobbyists, boiling away the sap on a stovetop requires a great deal of time and energy. A Crock-Pot is slower but more energy efficient.
Things You'll Need
Colander or wire mesh strainer
Coffee filters
Sterile Mason jars or other containers
Preheat the largest available Crock-Pot or other slow cooker on its "High" setting.
Line a colander or wire mesh strainer with a large coffee filter. Place the colander over the Crock-Pot and filter sap into the pot until it's almost full.
Bring the sap to a simmer on the cooker's "High" setting, then turn it to "Low" until the sap has reduced by half, usually eight hours or more.
Filter additional syrup into the Crock-Pot until it is nearly full again.
Continue refilling the Crock-Pot until all the sap is used, and the resulting syrup has the desired flavor and consistency.
Pour the hot syrup into one or more sterilized Mason jars or other containers. The syrup will keep at room temperature until it's opened. It should be refrigerated after opening, to prevent mold.