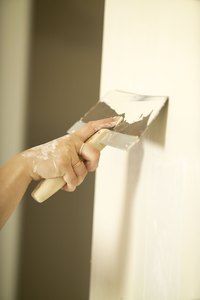 A plaster finish on an accent wall in your home can quickly create an expensive and stylish look to your home. Plaster provides both depth and texture to your walls, which creates an interesting focal point to any room in your home. However, the amount of plaster needed to pull off this look is often quite an expense. Luckily, you can achieve a similar look using simple and cheap drywall joint compound.
Things You'll Need
Painter's tape
Drop cloth
Detergent with a degreaser
Bonding primer
Caulk
Drywall knife
Latex sealer
Paint tint
Paintbrush
Tape off the area you plan to faux finish using painter's tape. Remove furniture away from the work area, and protect your floor using a drop cloth.
Wash the wall using a mixture of water and a few drops of detergent with a degreaser to remove grease, wax and dirt from your planned surface.
Thin out your joint compound by combining a 4.5-gallon bucket of Joint compound with one tube of caulk and a quart of bonding primer. Mix well.
Tint your joint compound using the appropriate colored paint tint for your project. Tints can be found at most home improvement stores. Measure your tint carefully and write down the measurements you used. That way if you need more than what you mix, you can make a second batch of the same color.
Apply the joint compound mixture to your wall using a drywall knife or trowel. You can use a 4-, 6- or 12-inch knife depending on how big you want your pattern to be. Apply the compound in a thin layer coming from different directions to create more texture.
Apply at least two coats of latex sealer over your plastered wall. Allow to dry before painting.
Paint your wall using your chosen paint color. Take a dry brush while your paint is still wet, and brush and rub it across the surface of your wall to help paint get into the nooks and crannies of your wall. Gently apply a second watered-down lighter coat of paint if you want more of a faux finish.