Things You'll Need
Wine corks

1-inch wide wood bead

5 inches of wide gold ribbon

Small gold bow

Hot glue gun

Paint

Paintbrush

Fuzzy gold yarn

Pipe cleaner, gold

Thin gold cording (optional)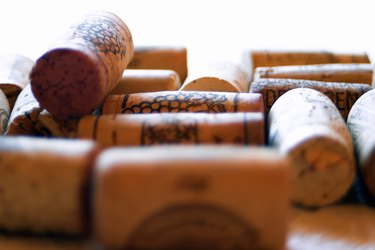 Wine cork angels make lovely little ornaments or gifts. The corks make light yet sturdy bodies for the angels. Assembling the wine cork angels is even easy enough for children to do on their own, or with a little help. Whether you want to make wine cork angels for Christmas or as gifts to let someone know you care, start collecting them earlier in the year. If you need a lot of wine corks, consider asking a local restaurant that serves wine to set aside used wine corks for you.
Step 1
Paint the wine cork white to make the angel's robed body. Then paint the wooden bead with paint that is pink, tan or brown for the head. Allow the painted objects to dry completely, about 3 hours. Paint black eyes and a red mouth on the center of the wooden bead, to make an angel face.
Step 2
Fold each end of the wide gold ribbon toward you to meet at the center. Glue the ribbon ends to each other at the center, then glue the ribbon seam on the back of the wine cork. This makes the angel's wings.
Step 3
Glue the painted wooden bead to the top of the wine cork. Attach a snippet of fuzzy gold yarn to the top of the bead for hair. Glue the tiny gold bow at the front of the angel, either at the neck or the waist.
Step 4
Bend the pipe cleaner into a small circle for a halo. Glue the back of the halo to the back of the fuzzy yarn hair.
Step 5
Tie the ends of the thin cording together to make a loop about 3 inches wide. Glue the knot to the back of the angel's body to hang the ornament.
Tip
Experiment with various craft materials for the head, wings and hair to create different combinations of angels. The head could also be made from a large pearl bead, small Styrofoam ball or square wooden bead. Try felt or lace wings.