Things You'll Need
Oxygen bleach

10 gallon garden sprayer

Water

Garden hose spray attachment

Roof brush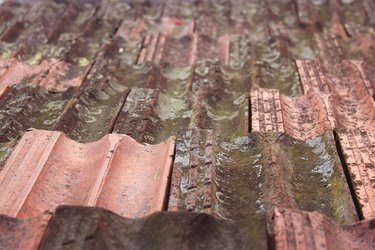 Rooftop moss and algae are very common, especially if you live in an area with heavy rainfall and high humidity levels. While cleaning professionals may charge a heavy roof cleaning fee to remove moss from your rooftop, you can save money by doing the job on your own. To get rid of ugly rooftop moss, try a do-it-yourself removal method. An effective homemade moss killer is simple to make and is easy on your pockets.
Step 1
Pour two parts oxygen bleach and one part water into a 10 gallon garden sprayer.
Step 2
Attach a garden hose spray attachment to the spray bottle.
Step 3
Shake the bottle to completely blend the bleach mixture.
Step 4
Spray the bleach mixture onto the surface of the roof. Be sure to thoroughly saturate any moss on the rooftop.
Step 5
Leave the bleach to sit on the roof for at least 25 minutes.
Step 6
Scrub the moss off of the rooftop using a roof brush. Be sure to use a downward motion when using the roof brush.
Tip
This process may have to be repeated if the moss is particularly stubborn.
Warning
To avoid color damage, use oxygen bleach instead of chlorine bleach. Chlorine bleach may cause discoloration of wooden roof shakes.