Things You'll Need
Soft cloths

Leather cleaner

Leather conditioning cream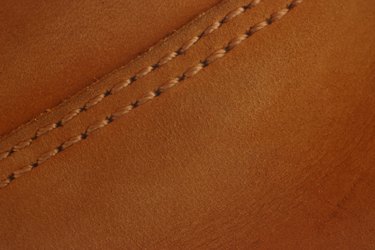 Balenciaga is a designer fashion house specializing in stylish leather handbags. If you own a Balenciaga bag, protect your investment by caring for it properly. Store the handbag in its flannel bag out of the way of direct heat and sunlight. Keep the handbag away from water, which can stain the leather. If you need to clean your Balenciaga bag due to everyday wear and tear, use gentle products designed for use on leather.
Step 1
Wipe the Balenciaga leather handbag down with a soft, dry flannel cloth to remove any dust from the surface.
Step 2
Squeeze a small amount of a cleaning product designed for leather use on a soft cloth. Test an inconspicuous area of the purse with a small dab of cleaner to see how the leather reacts. Avoid using the product if you notice an adverse reaction, such as staining, discoloration or a sticky feel; a compatible cleaner will leave the leather feeling smooth and without any dark spots.
Step 3
Apply the cleaner to the purse in a gentle, circular motion, working with the grain of the leather. Buff the bag with a soft, dry cloth. Allow the bag to dry for at least two hours, away from direct light.
Step 4
Finish the cleaning process by treating the leather bag with a conditioning cream. Check the handbag's care label for recommended products. Work the cream into the leather in small, circular motions.