Things You'll Need
Stud finder

Pencil

Measuring tape

Nail set

Hammer

Drill with tile bit

Screwdriver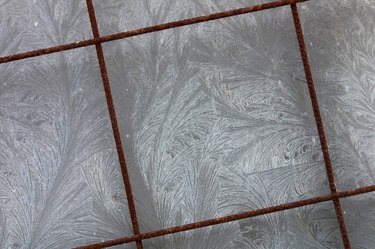 Tile walls are often found in a bathroom, providing a moisture proof option with high-class appeal. When the tile wall extends around a window in the bathroom, blinds are a desirable feature, providing privacy and blocking bright light. The process of installing the blinds is similar to that on a regular wall surface, with the addition of several steps.
Step 1
Locate the stud closest to each side of the window where you'll be mounting the blinds. Mark each stud with a pencil for reference.
Step 2
Measure the width between the two studs and obtain a blind that spans this distance.
Step 3
Mark the location where you'll install the mounting brackets along the studs. Place them at a level even with or slightly above the window to ensure coverage. Hold the blind brackets up to the location and put a pencil mark through each screw hole.
Step 4
Hold a nail set up to the pencil marks and tap gently with a hammer to score the tile surface, which helps to prevent cracking during the drilling process. A nail set is a tool that resembles a tiny ice pick.
Step 5
Drill a hole through each pencil mark, placing the tip of your tile drill bit directly into the indentation from the nail set, going deep enough to hit the stud beneath.
Step 6
Line the brackets up with the holes and screw them directly in place. Mount the blinds between the brackets to finish the installation process.